---
Regional cybersecurity expert Spire Solutions and CyberX, the IIoT and industrial control system (ICS) security company, have announced a partnership to strengthen industrial cybersecurity for industrial and critical infrastructure organisations in the Middle East. CyberX will be demonstrated at the Spire Solutions stand CDS-B3 during the Cyber Defence Summit in Riyadh, Saudi Arabia on 13 - 14 February.
Recent cyberattacks such as WannaCry, NotPetya, and TRITON demonstrate that ICS and Operational Technology (OT) networks continue to be soft targets for adversaries – increasing the risk of costly production outages, safety failures, environmental incidents, and theft of sensitive intellectual property.
According to Gartner, "OT networks have been unmanaged, from a security and risk perspective, for many years. They are flat, with a mix of OT protocols, unidentified assets, legacy systems and devices with unsecure communications."1
With the Industrial Internet of Things (IIoT) driving the deployment of billions of new devices to monitor and control critical OT processes such as refining, distribution pipelines and robotics, OT environments are increasingly connected to enterprise IT networks and the internet – making them even more vulnerable to dangerous attacks.
CyberX is the only industrial cybersecurity company to have been awarded a patent for its innovative, ICS-aware threat detection analytics and machine learning technology, and the only industrial cybersecurity company founded by blue-team cyber experts.
Purpose-built for OT security, CyberX's agentless, non-intrusive platform enables customers to answer critical questions such as:
What unmanaged devices do we have, what is our network topology, and how are our OT devices communicating with each other?
What are the critical vulnerabilities and risks to our most valuable OT assets, and how do we prioritise mitigation?
Do we have any threats in our OT network, and how do we quickly investigate and respond to them?
How can we leverage our existing IT security investments, people, training and tools (SIEMs, firewalls, ticketing and orchestration, etc.) to secure our OT infrastructure?
"Addressing OT security challenges require innovative solutions that are specifically designed for such environments. CyberX is a leader and pioneer in this domain and delivers in-depth security for industrial control systems. We are excited to take this best-of-breed platform to our enterprise and government customers in the region, many of whom have large and complex ICS environments," said Sapan Agarwal, Deputy VP, Product Management at Spire Solutions.
"As cyber adversaries are becoming increasingly sophisticated, organisations are being challenged to reduce the operational risk posed by malicious threat actors such as nation-states and cybercriminals. Recent attacks are increasingly focused on industrial control systems, allowing attackers to directly impact the products and services upon which we all depend every day. With Spire Solutions as our Middle East partner, CyberX now helps organisations in the region defend against cyberattacks and maximise their operational cyber resilience," commented Buck Watia, VP Alliances & Business Development at CyberX.
1 Gartner, "2018 Strategic Roadmap for Integrated IT and OT Security," by Saniye Alaybeyi, 3 May 2018.
Read the article online at: https://www.worldpipelines.com/business-news/13022019/spire-solutions-and-cyberx-team-up-to-strengthen-industrial-cybersecurity/
You might also like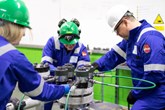 3t EnerMech named regional winner at top engineering awards for the second year in a row.