---
Enbridge advises that one of the two natural gas transmission pipelines as part of the B.C. pipeline system impacted by a rupture this week is now operational.
There are two Enbridge-owned and operated natural gas transmission pipelines that are part of the BC Pipeline system – a line that is 30 in. in diameter and a second line that is 36 in. in diameter. Both lines were shut down and depressurised following a rupture on the 36 in. line, which ignited approximately 13.5 km north of Prince George.
The 30 in. line, which runs parallel to the impacted line, underwent a comprehensive integrity assessment that evaluated a number of potential impacts, including the condition of the pipe, geotechnical and ground disturbance, and other potential integrity issues. Following this rigorous assessment, the line was deemed fit for service.
Enbridge received an order from the National Energy Board (NEB) in the evening of 10 October to restart the 30 in. line. Following the NEB order, Enbridge initiated its restart plan to safely and gradually bring the line's pressure up to approximately 80% of normal operating capacity. Natural gas is now safely flowing to its customers through the single line.
In co-ordination with regulatory agencies, Enbridge has mobilised significant resources to investigate the cause of the rupture on the 36 in. line, and eventually replace the impacted segment. As this work is ongoing, Enbridge does not yet have a time estimate on the investigation process, nor a timetable on repairing and returning the 36 in. line to service. Enbridge will provide more information when it becomes available.
Safety is the company's number one priority. Enbridge is focused ensuring the safety of investigators and crews at the site, as well as members of the public.
A 1 km security zone around the site of the incident was established immediately following the incident. Unauthorised individuals are not permitted in this security zone, which will be in place indefinitely to ensure public safety and the integrity of the investigation.
Read the article online at: https://www.worldpipelines.com/business-news/12102018/enbridge-gas-pipeline-is-now-back-to-operation/
You might also like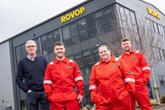 ROVOP focused on producing the 'next generation' of ROV pilots, adds three new trainees to its training programme.