---
After a decade of pioneering wireless technologies for industrial companies, Emerson predicts the next 10 years will see exponential growth in the adoption of wireless and pervasive sensing applications that help companies maximise safety and reliability, optimise production and enable Industrial Internet of Things (IoT) strategies.
A key technology of Emerson's Plantweb™ digital ecosystem, wireless products have transformed industrial facilities around the world. As many technologies of the past decade have accelerated and improved information at people's fingertips, industrial wireless has given manufacturers the digital technology to access essential data to make better decisions and improve operational performance.
"Wireless is arguably the most impactful technology for industrial manufacturers since the introduction of digital instrumentation more than three decades ago," says Bob Karschnia, Vice President and General Manager, Wireless, Emerson Automation Solutions. "Over the past 10 years, industrial wireless combined with smart sensors has provided the foundation that will support cloud-based applications, remote monitoring and other Industrial IoT programmes over the next decade."
By collaborating with customers on early installations, Emerson helped introduce the world's first industrial wireless automation standard in 2007. Since then, Emerson has surpassed 10 billion hours of wireless operations across more than 32 000 networks, proving its reliability, robustness and security. While initial adoption focused on harsh, remote and difficult to reach environments, wireless has expanded customers' automation ecosystems from core functions to new applications such as acoustic monitoring, corrosion detection and power consumption monitoring.
New plant construction is leveraging wireless technology for other enterprise-wide applications, such as equipment health monitoring and energy management, with upwards of 20% wireless infrastructure.
"Given the 'new normal' for oil prices and the intense focus on getting more value from existing assets, companies are increasingly turning to wireless as a cost-effective and highly efficient technology for fleet-wide performance optimisation," Karschnia said. "In the next 15 years, there could be 100% wireless plants, just as many homes today have cut the cord on wired telephone service."
The Emerson wireless portfolio of gateways and devices supports Emerson's Plantweb digital ecosystem that harnesses Industrial IoT to expand digital intelligence to the entire manufacturing enterprise, while providing an architecture for either on- or off-premise monitoring. Providing the communications network for Industrial IoT, wireless is also helping customers collaborate with Emerson's experts through remote monitoring and other cloud-based services.
vEmerson wireless technologies, based on the internationally recognised WirelessHART® standard approved by the International Electrotechnical Commission (IEC) in 2010, are widely implemented in refineries, oil fields, offshore platforms, chemical plants and other industrial facilities around the world. With them, manufacturing personnel obtain plant information on-demand to achieve operational certainty, including greater reliability, worker and plant safety, reduced emissions and lower risk of environmental impacts.
Emerson recently announced its new dual-mode wireless gateway which helps customers establish a robust and flexible wireless plant infrastructure, supporting both WirelessHART and ISA100 industrial wireless communications standards. To help manufacturers minimise potentially negative impacts on their operations, Emerson recently introduced technologies for advanced wireless detection of piping corrosion, steam and gas leaks, as well as wireless monitoring of power consumption.
Read the article online at: https://www.worldpipelines.com/business-news/12102017/emerson-predicts-next-ten-years-of-wireless-technologies/
You might also like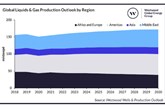 New report from Westwood finds liquids and gas production set to reach 173 million boe/d by 2030, with 9% growth on 2022 levels.