---
Metso's valve business and Hexagon's PPM division have joined forces to improve project data exchange efficiency for engineering, procurement and construction (EPC) projects.
The agreement, which enables an interface with Intergraph Smart® Instrumentation from Hexagon PPM, compliments Metso's digital tools for its valve business' project data and creates better value in data exchange while lowering the project cost for EPC customers using Hexagon's software suite.
Oscar Bronsveld, responsible for global project sales at Metso's valve business area, said, "The majority of our EPC customers use the Smart Instrumentation software suite. Our target is that together with Hexagon we can bring value during procurement, and eventually also in the execution phase for the EPCs by saving them precious engineering hours in data exchange and creation of the project deliverables such as instrument specifications."
In the first phase, Metso's digital tool for project quotations will provide advanced digital data exchange capability with EPCs, allowing considerably faster and more efficient processing of EPC inquiries and project quotations. EPCs will benefit from speedy quotations and time savings from efficient data exchange processes.
"Our vision is to provide our clients with a seamless customer experience by combining the power of Metso's digital tools, knowledge of our products and customers' processes together with Hexagon's strong experience in engineering and information management solutions," said Rashmi Kasat, lead of digital program management for the valve business at Metso.
Philippe Marceau, Executive Vice President, Hexagon's PPM EMIA region, said, "One of our key areas of innovation is the digitalisation of engineering information to support our clients to embark on a journey toward digital transformation. We are proud to work with Metso to develop sophisticated digital data exchange with EPCs."
Intergraph Smart Instrumentation facilitates increased productivity and lowered risks on project execution for the EPC and a single source of all instrumentation data access for plant owners to help lower cost of operations and increase process uptime. For more information about the solution, click here.
Read the article online at: https://www.worldpipelines.com/business-news/12092018/metso-and-hexagon-collaborate-on-valve-data-exchange/
You might also like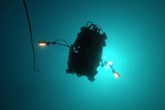 Voyis and Deep Trekker, have joined forces to achieve the successful fusion of Voyis' Discovery Camera with Deep Trekker's REVOLUTION ROV.