---
The "Today's Natural Gas Industry, New Regulatory & Pipeline Dynamics, and How Physical Transactions are Done" conference has been added to ResearchAndMarkets.com's offering.
This comprehensive and clearly explained programme is for professionals who are seeking an in-depth understanding of today's North American natural gas industry and want to be up and running to make intelligent and prudent trading and buying decisions.
Learn how the transportation/delivery infrastructure works and how deals are done. Know who the natural gas market participants are and how commercial transactions occur along each segment of the value chain. Understand and apply your knowledge of how the wholesale natural gas and transportation markets operate and where the new opportunities are in today's dynamic natural gas marketplace.
You will be more confident and benefit from knowing comprehensive nuts-and-bolts fundamentals through to understanding physical transactions and strategies to start making money and avoiding costly mistakes.
You will learn:
A detailed understanding of all parts of the natural gas value chain, infrastructure components and how the natural gas industry operates across the value chain spectrum.
What natural gas is, how it is created, the different "types" of natural gas based on various factors and sources, terminology, measurements and conversions.
The essential of understanding how gas is used, by whom and what are demand drivers and related issues.
The basics of natural gas production, drilling techniques and economic and market issues around production operations in different types of production basins that impact supply availability.
What does the unprecedented growth of unconventional gas supplies mean for the future of natural gas production and how it is change infrastructures, pipeline flows and delivery options.
The issues and dilemmas the industry faces in obtaining supply from new plays with new production technologies and understanding what reserves are and the various definitions and estimation methods.
The basics of gas gathering, operations, markets and regulatory issues.
What gas processing is, how it operates, NGL extraction flows, and related economic issues in today's market.
For more information about this conference, click here.
Read the article online at: https://www.worldpipelines.com/business-news/12092018/conference-announced-us-natural-gas-industry/
You might also like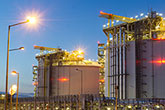 Prices pick up slightly but continue to remain deflated worldwide; prices did not respond as they did in 2022 despite disruption of gas pipeline supplies in Europe by multiple maintenance works.