---
CUI Global, Inc. (CUI Global or the Company) announced on 8 May 2020 that it will change its name to Orbital Energy Group, Inc. (Orbital Energy), effective immediately. The new name reflects the Company's strategic repositioning to become a diversified energy infrastructure services company. Orbital Energy's common shares will continue to be listed for trading on the Nasdaq under the new ticker symbol 'OEG' beginning at market opening on Monday 11 May 2020. In conjunction with the name change, the Company will be launching a new corporate website at www.orbitalenergygroup.com.
The name change follows the Company's platform acquisition of Reach Construction Group (Reach), completed on 1 April 2020. Headquartered in Apex, NC (US), Reach is an engineering, procurement and construction (EPC) company with expertise in the renewable energy industry. The Company believes the name Orbital Energy Group more accurately depicts its extensive capabilities and innovative products, evolving business and new brand – a brand that provides a wide range of energy infrastructure solutions.
"We are excited to change our name to Orbital Energy Group as part of our company-wide transformation," said Jim O'Neil, Vice Chairman and CEO of Orbital Energy. "This rebranding marks a key milestone as we leverage our engineering and construction capabilities, including those of our recently internally developed Orbital Power Services group, to deploy a broader set of service offerings in the energy infrastructure market. With our recent acquisition of Reach, we have also extended our energy services business into the rapidly growing areas of alternative and renewable energy, enabling us to take an active role in reducing our nation's carbon footprint. With our increased capabilities, over time we expect to diversify into synergistic services and to expand geographically to serve the electric power industry, as well as the larger infrastructure services market."
In connection with the name and ticker symbol change, the Company's common shares have been assigned a new CUSIP number of 68559A 109.
Read the article online at: https://www.worldpipelines.com/business-news/12052020/cui-global-announces-name-change-to-orbital-energy-group/
You might also like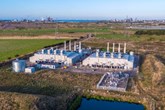 This is the first customer that has been announced for Kellas Midstream's H2NorthEast Teesside hydrogen project.