---
Saudi Aramco recently participated in the UK-Saudi CEO Forum held in London to promote bilateral business and cooperation between the two countries. The forum was scheduled to coincide with the official visit to the UK by HRH Crown Prince Mohammed bin Salman and saw Saudi Aramco sign a number of MoUs and commercial agreements.
Speaking at the UK-Saudi CEO Forum, Saudi Aramco President and CEO Amin H. Nasser said, "Saudi Aramco has a massive investment programme over the next 10 years. This includes a number of large world scale projects where British businesses can play a major role.
"With Vision 2030, I believe there are more opportunities for collaboration and partnerships, not only in the oil and gas sector but also in infrastructure, manufacturing and services industries which are critical to manage and operate an enterprise like Saudi Aramco.
"Saudi Aramco has nearly 4 000 registered British vendors and contractors. In the last 10 years we have spent nearly US$10 billion in services and materials contracts with British service providers. We currently have more than 200 active contracts with British companies. The businesses range from engineering and construction, drilling equipment, power generation machinery and quality management services."
The MoUs, signed by Saudi Aramco with Royal Dutch Shell, Imperial College, The Welding Institute (TWI) and The Royal Institute of International Affairs (Chatham House), reflect the company's close ties to the UK and the breadth of its strategic interests.
The MoU Saudi Aramco signed with Royal Dutch Shell agreed to jointly pursue international gas business opportunities, including upstream development, liquefaction projects and other aspects of the gas value chain. The MoU reflects Saudi Aramco's strategy to expand its natural gas assets while acknowledging Royal Dutch Shell's strength in LNG.
Saudi Aramco also signed an MoU with The Royal Institute of International Affairs, one of the world's leading think tanks and research establishments and a frequent host to visiting heads of government and senior political leaders, including high ranking Saudi ministers. The MoU reflects a long standing relationship and paves the way for further cooperation on assessing changes to the global and national energy markets and policies.
Saudi Aramco also signed an MoU with Imperial College London. The MoU will seek to establish joint projects targeting frontier technologies and developments in chemical engineering, petroleum and geoscience, mechanical engineering and advanced materials.
Finally, Saudi Aramco inked a further MoU with the internationally acclaimed Cambridge-based independent research and technology institution, TWI which is recognised as a global centre of excellence in materials joining and engineering processes. The MoU sets out plans to establish the multi-stakeholder Non-Metallic Innovation Center (NIC) at TWI alongside NSIRC (National Structural Integrity Research Centre), a partnership with leading academic institutions, research centres, energy companies and composite materials manufacturers.
The four MoUs were complemented during the visit with two other commercial agreements including one with Aberdeen-based Downhole Products to further strengthen Saudi Aramco's drilling operations.
Following the signing ceremonies, Mr. Nasser said, "Today, we are further expanding our relationship with six agreements and MoUs with leading British companies and organisations to support Saudi Aramco's long business growth strategy.
"At Saudi Aramco we have real, tangible and meaningful opportunities to collaborate and build partnerships now and in the future. The strengths of British businesses and industry can play a role in Saudi Aramco's business plan including in our diversification and expansion strategies underscored by the framework of Vision 2030."
Read the article online at: https://www.worldpipelines.com/business-news/12032018/agreements-made-and-mous-signed-at-uk-saudi-ceo-forum/
You might also like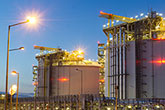 Prices pick up slightly but continue to remain deflated worldwide; prices did not respond as they did in 2022 despite disruption of gas pipeline supplies in Europe by multiple maintenance works.