---
The 'Global Oil Supply and Demand Market: Outlook to 2030' report has been added to ResearchAndMarkets.com's offering. Combining data and insights from a suite of energy market forecasting models, this outlook focuses on the impact of key drivers on the pace and timing of oil price recovery, the evolution of regional oil production (including shale oil), and the economic implications of long-term market trends for oil supply and demand.
Key findings include:
OPEC behaviour: OPEC reached full level of compliance with the output cut deal, however production growth in deal-exempt countries and NGLs is offsetting large part of the cuts, delaying market balancing.
Mid-term oil recovery scenario: We expect the market to structurally tighten around 2020. LTO production should return to strong growth by that time, yet accelerated legacy production declines from the lack of upstream investment will likely help eclipse the oversupply.
Long-term oil demand growth outlook: Long-term oil demand growth slows down, due to slower global GDP growth of 2.4 - 2.7%/y and decreasing oil intensity driven by energy efficiency and EV substitution.
Long-term oil supply growth outlook: On the supply side, recent improvements in project cost savings are expected to be partially maintained, and translate to 15 - 20% reductions in project breakeven prices by 2030.
Industry margins: The marginal cost of supply in the long-term is expected to be in the US$60 - 70/bbl range, thanks to slow demand growth and cost improvements on the supply side.
Key topics covered include: historical recap (2014 - 2017 YTD); medium-term market outlook (through 2021); and long-term market outlook (through 2030).
To see the report click here.
Read the article online at: https://www.worldpipelines.com/business-news/12022018/global-oil-supply-and-demand-new-report/
You might also like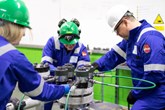 3t EnerMech named regional winner at top engineering awards for the second year in a row.