---
Strad Energy Services Ltd. (Strad) has announced an additional CAN$15.5 million of capital is being allocated to its Industrial Matting division to support its continued growth. Combined with previous allocations, this brings the total capital programme for 2018 to CAN$28.5 million. The additional CAN$15.5 million will expand the company's matting fleet by approximately 22 000 mats and related equipment to meet current and pending projects.
"Last week's announcements regarding multiple large-scale infrastructure projects, namely LNG Canada and the Coastal GasLink pipeline, reinforce and validate our decision to focus our growth agenda squarely upon our Industrial Matting business," said Andy Pernal, President and Chief Executive Officer. "Today, our wood matting utilisation rates across North America are at 70% and this growth capital will bolster our capacity to participate in the construction of these extensive Western Canadian projects."
Currently, Strad's matting business is working on two large pipeline projects in Western Canada, including the North Montney Mainline Project in the Peace River region with Macro Industries Inc. Along with serving the pipeline sector, Strad also operates in a broad range of industrial sectors across North America, including: power transmission, wind power, mining, construction as well as oil and gas. Strad will continue to evaluate capital opportunities through 2018 and will assess the size of its capital program from time to time based on industry conditions and customer demand.
Industrial matting
Industrial matting supports two critical functions for construction-type projects in a cost effective and environmentally-friendly manner; first it provides temporary access to work areas, especially in remote and soft ground environments and secondly it provides durable platforms for staging or worksite areas. At the same time, matting has proven to be indispensable for ground protection, preventing soil contamination and spread of noxious weeds in agriculture settings, protecting Indigenous lands and accommodating enhanced worker safety requirements.
About Strad
Strad specialises in industrial matting and equipment rentals for projects of any size, from a network of branches across Canada and the US. Strad aims to exceed customer expectations in many industrial sectors, including oil and gas, pipeline, power transmission, and mining.
Strad is headquartered in Calgary, Alberta, Canada. Strad is listed on the Toronto Stock Exchange under the trading symbol 'SDY'.
Read the article online at: https://www.worldpipelines.com/business-news/11102018/new-pipeline-projects-are-furthering-strads-growth/
You might also like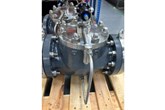 Oxford Flow expands its product range and grows market potential with new high- and low-pressure pilots.