GlobalData: Colonial Pipeline attack will concentrate government and operators' minds on the ransomware threat
Published by Aimee Knight, Editorial Assistant
World Pipelines,
---
Following the disclosure of a cyberattack on the Colonial Pipeline, David Bicknell, principal analyst, Thematic Research at GlobalData, a leading data and analytics company, offers his view:
"The economic impact wrought by this cyberattack will bring home to government and energy operators the vulnerabilities in critical infrastructure. This is not the first ransomware cyberattack on an oil and gas utility - and it won't be the last - but it is the most serious. It is also potentially one of the most successful cyberattacks against US critical national infrastructure.
"Although cyberattacks have typically targeted corporate IT systems, the risk of those jumping across to operational technology (OT) systems has become much more prevalent.
"Next week's RSA cybersecurity conference would typically have discussed the threat to all organisations from ransomware attacks, but the extent and impact of this attack on a US fuel pipeline will make this a keynote issue. The security industry must find a way to help organisations - especially utilities - develop both defensive measures to prevent these attacks and the requisite best practice for responding to them."
Read the latest issue of World Pipelines magazine for pipeline news, project stories, industry insight and technical articles.
World Pipelines' May 2021 issue
The May issue of World Pipelines includes a regional report on Canada's oil and gas sector, as well as technical articles on integrity management software, leak detection, NDT, and project case studies. Don't miss our feature on young pipeliners, in which World Pipelines' Senior Editor Elizabeth Corner interviews the winners of the John Tiratsoo Award for Young Achievement, awarded by Young Pipeliners International, in partnership with PPIM.
Read the article online at: https://www.worldpipelines.com/business-news/11052021/globaldata-colonial-pipeline-attack-will-concentrate-government-and-operators-minds-on-the-ransomware-threat/
You might also like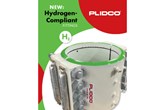 In response to the emerging transition toward hydrogen, PLIDCO has introduced a new range of products for use with hydrogen pipelines.