---
Following the publication of the Department of Defense's Compatibility Assessment Report for the Eastern Gulf of Mexico, API's Director of Upstream and Industry Operations Erik Milito released the following statement.
"Offshore oil and natural gas exploration and development already successfully co-exists with US military operations in the Gulf of Mexico," said Milito. "Military training operations and domestic energy production are critical components of our national security. This new report on the Eastern Gulf of Mexico confirms that continued collaboration between the Department of Defense and Interior will enable the successful coexistence of continued military training and expanded American oil production."
"The continued co-ordination between the Department of the Interior and the Department of Defense is an important aspect of Secretary Zinke's National Offshore Leasing Plan and helps ensure that oil and natural gas offshore activities are done safely and responsibly in a manner that doesn't interfere with US military operations."
"Combined with cutting-edge technologies and best practices, offshore exploration and development can occur in a wider range of offshore areas than is currently permitted, while still supporting the needs of the US military. Allowing for expanded access of oil and natural gas operations in the Outer Continental Shelf (OCS) will benefit the US economy, advance our long-term energy future, and bolster our national security as our reliance on foreign nations lessens."
Read the article online at: https://www.worldpipelines.com/business-news/11052018/eastern-gulf-of-mexico-report-supports-expanded-access-for-offshore-oil-and-gas/
You might also like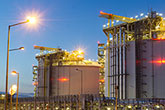 Prices pick up slightly but continue to remain deflated worldwide; prices did not respond as they did in 2022 despite disruption of gas pipeline supplies in Europe by multiple maintenance works.