---
Houston Paradigm Flow Services, PIC Chemicals and River Rental Tools have announced the formation of a strategic alliance that will provide technologically advanced production enhancement solutions to shallow water Gulf of Mexico oil and gas customers.
The alliance amplifies the companies' core service offerings to deliver sustainable solutions to the paraffin wax problem that has plagued the shallow water Gulf of Mexico's pipeline infrastructure for decades.
"Our combined capabilities are key to unlocking new value for the Gulf of Mexico's shallow water operators." said Kevin Keogh, VP of Commercial for Paradigm Flow Services. "Paradigm's advanced pipeline cleaning technologies enable more cost-effective and sustainable maintenance and integrity management programmes to be implemented across the Shelf."
Buck Houchin, President and CEO of PIC Chemicals added, "By combining our pipeline technologies we're offering a more powerful toolbox in the operators' flow assurance arsenal. Paradigm Group scientists pioneered the neutrally buoyant composite Flexi-Coil™ technology that provides solutions for what had previously been considered unreachable pipeline and riser restrictions. PIC brings unique technologies in pipeline remediation like PetroGel® Surveillance Pigs for pipeline topographical mapping and locating restrictions and the BioZonal™ Wax Digestion process for cold subsea pipelines.
The PIC & Paradigm Flow Services partnership is thought to bring many low-risk high-return solutions to pipeline commissioning, decommissioning and flow assurance challenges.
Read the article online at: https://www.worldpipelines.com/business-news/10122018/formation-of-a-strategic-pipeline-remediation-alliance/
You might also like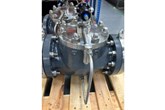 Oxford Flow expands its product range and grows market potential with new high- and low-pressure pilots.