---
Pars Oil & Gas Company has completed 50 km of the first offshore pipelaying operation at the South Pars field.
Project Director of South Pars phase 13 (SP13), Payam Motamed, announced that the operation has been ongoing since June when onshore lines of A and B were piped, each with the length of 3 km, in which the line B had been stopped for a week due to technical problems occurred after 7 km.
Pipelay operation restarted when all obstacles were removed and the confirmation was received from equipment manufacturers. Thus, they are being implemented for more than 50 km without any problem since then.
Stating that the highest daily record has involved 164 pipes (an equivalent of 2043 m), Motamed added up: "offshore pipelay operation is being implemented 96 km long from the platform 13B to onshore facilities of this plan by the vessel, Oceanic 5000."
Motamed pointed out: "As scheduled, having completed a 32 in. pipeline operation from the platform 13B to onshore facilities, an 18 in. pipelaying operation will be performed in 6 km long between the main platform B and the satellite platform D."
He continued: "Based on agreements and also to shorten the project time, the second main 32 in. pipelay operations will subsequently begin with the length of 88 km from platform A to onshore facility, as well as 18 in. pipelay operations between the platform A and the satellite platform C, with the length of 6 km."
He predicted that if preparation operations of platforms 13B, 13D and complementary operations of the wells are completed, the first main and satellite pipeline of phase 13 will be launched by the next spring. This provides phase 13 to daily produce 1 billion ft3 of sour gas of this phase.
Phase 13 of the South Pars development plan entails four offshore platforms. The sour gas extracted from 38 wells is transferred via two separate 32 in. pipelines to onshore refinery located 20 km from Kangan city.
SP13 has been designed to daily production of 56 million m3 of rich gas from the South Pars field, 50 million m3 of sweet gas, 2900 t of LPG, 2750 t of ethane, 75000 bbls of gas condensate, and 400 t of sulfur.
Read the article online at: https://www.worldpipelines.com/business-news/10082017/phase-13-of-the-south-pars-development-update/
You might also like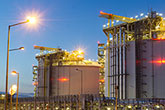 Prices pick up slightly but continue to remain deflated worldwide; prices did not respond as they did in 2022 despite disruption of gas pipeline supplies in Europe by multiple maintenance works.