American Midstream "excited about integrating this asset as part of long-term Gulf Coast strategy"
Published by Stephanie Roker, Editor
World Pipelines,
---
American Midstream Partners, LP (AMID or the partnership) has announced the acquisition of 100% of the assets in Panther Asset Management, LLC (Panther) for a total consideration of approximately US$52 million. The consideration consisted of approximately US$39 million cash from borrowings under the partnership's revolving credit facility and common units representing limited partner interests.
The underlying assets acquired are highly complementary with AMID's core Gulf of Mexico assets as a substantial portion of Panther's cash flows are generated by AMID joint ventures. Through the purchase, AMID will acquire Panther's 33.3% equity interests in Main Pass Oil Gathering (MPOG), as well as Panther's 40% equity interest in American Panther, LLC (AmPan). As such, the partnership will now own 100% of MPOG and AmPan.
MPOG currently provides crude oil transportation services in the Main Pass, Viosca Knoll and Mississippi Canyon areas with onshore Louisiana delivery to either Delta or Cypress pipelines to the Empire Terminal. MPOG has crude oil capacity of 160 million bbls/d and has approximately 98 miles of large and mid diameter pipelines from four offshore platforms. AmPan provides crude oil and natural gas transportation services from the South Marsh Island area offshore to an onshore station near Henry Hub in Vermillion Parish (Louisiana) for crude oil and the Henry Hub for natural gas. In total, the AmPan system encompasses approximately 200 miles of crude oil, natural gas, and salt water onshore and offshore Gulf of Mexico pipeline.
Consolidating MPOG and AmPan into the partnership's Gulf of Mexico portfolio continues the strategy of enhancing its gulf coast asset base, providing its customers with strong interconnectivity that allow for multiple product delivery points product delivery; as well as solidly position AMID as a Gulf of Mexico crude oil pipeline operator.
The acquisition of Panther is an important part of the partnership capital redeployment strategy. Coupled with the recently announced Viosca Knoll acquisition on 2 June 2017, AMID has effectively redeployed US$85 million of the anticipated proceeds from the sale of Propane Marketing and Services business announced on 24 July 2017. The acquisition of Panther is accretive to 2017 Adjusted EBITDA and distributable cash flow and is expected to earn returns consistent with a mid-single digit cash flow multiple.
"We are excited about further integrating this strategic asset as part of our long-term Gulf Coast strategy. The acquisition of Panther is a strong and tactical fit that will provide another step to creating the premier gulf system," stated Lynn Bourdon III, President and Chief Executive Officer. "The Panther team has a strong history of being able to execute in high valued projects and we look forward to working with them as part of AMID."
Read the article online at: https://www.worldpipelines.com/business-news/09082017/american-midstream-excited-about-integrating-this-asset-as-part-of-long-term-gulf-coast-strategy/
You might also like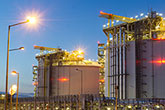 Prices pick up slightly but continue to remain deflated worldwide; prices did not respond as they did in 2022 despite disruption of gas pipeline supplies in Europe by multiple maintenance works.