---
SkyX, the company revolutionising the way aerial data is acquired, analysed and actioned, has announced that Jacob Shavit will serve as Chair of the Board of Directors, guiding the company in its next phase of global business growth. Aligned with SkyX's vision of aerial data-based change detection and analytics that powers sophisticated predictions for pipeline integrity, Shavit will help lead SkyX's market expansion within and beyond the oil and gas industry.
"We're extremely pleased and honoured to welcome Jacob as our Board Chair," said Didi Horn, CEO of SkyX. "To scale in today's world, you have to keep learning. The capacity to learn is a gift; the ability to learn is a skill; the willingness to learn is a choice. We at SkyX choose to learn from the best. As we enter a rapid growth phase on our journey to better protect extensive infrastructure assets around the world with our unique SkyVision platform, we have the right guidance and right technology working together. Jacob is a brilliant strategist and has deep experience scaling multibillion-dollar businesses, including transformative, data-centred technologies like ours."
Skilled in innovation, changing markets, sustainable growth and enhancing operational performance, Shavit has 28 years of senior international business management experience in the aerospace and defence industries, homeland security, disruptive technologies and global consulting for SMBs and large enterprises alike. He was President and CEO of Discovery Air, Shintu, and IDCL, and CBO of AGT International.
"The last 50 years and more have largely been about monitoring critical infrastructures like oil and gas pipelines using small planes, helicopters and land vehicles with raw, inept and limited results," said Shavit. "Now we are giving the Energy industry and other infrastructure companies smartly processed actionable data powered by easy-to-use, but highly sophisticated software that can manage terabytes of aerial data to understand, analyse and, ultimately, predict what's happening on the critical asset's perimeters. SkyX has a transformative vision for aerial data and the technology to manifest that vision – in a way that saves industry hundreds of millions of dollars and dramatically improves asset protection. I look forward to learning from and mentoring the SkyX team as the company that I very strongly believe in continues to grow and expand."
Prior to his corporate career, Koby served 21 years in the Air Force and was a Squadron Commander (Lt. Colonel) and Deputy Commander for Operations of a large Air Force base. He is also an accomplished fighter jet, helicopter and general aviation pilot, with more than 3700 flight hours logged in various cockpits.
"Jacob's work spans multiple industries, across five continents, and his talent leading Air Force units as well as growing innovative tech companies gave him the know-how to build organisational culture that pushes forward," added Horn.
Shavit holds an MBA from Columbia Business School and is a graduate of the Advanced Management Programme at Harvard Business School. He is also a graduate of Bar Ilan University Law School and the Air Force Academy and Staff and Command Academy.
Read the article online at: https://www.worldpipelines.com/business-news/09052022/skyx-accelerates-global-expansion/
You might also like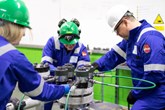 3t EnerMech named regional winner at top engineering awards for the second year in a row.