---
Enbridge Inc. (Enbridge) and Enbridge Income Fund Holdings Inc. (ENF) have completed the previously announced plan of arrangement (the Arrangement). The Arrangement involved the acquisition by Enbridge of all of the issued and outstanding ENF shares not already owned by Enbridge, resulting in ENF becoming a wholly-owned subsidiary of Enbridge.
Effective today (8 November), ENF shareholders are entitled to receive, for each ENF share held, 0.7350 of a common share of Enbridge and a cash payment of CAN$0.45. In addition, each ENF shareholder who continues to hold their Enbridge shares on 15 November 2018 will receive, as an Enbridge shareholder, Enbridge's 4Q dividend, declared in the amount of CAN$0.67100 per common share of Enbridge, payable on 1 December 2018 to Enbridge shareholders of record on 15 November 2018. Each ENF shareholder will also receive the ENF dividend in the amount of CAN$0.1883 per ENF share, payable on 15 November 2018 to ENF shareholders of record on 31 October 2018.
The Arrangement was approved by ENF shareholders at a special shareholders meeting held on 6 November 2018 and by the Court of Queen's Bench of Alberta.
The ENF shares will be delisted from the Toronto Stock Exchange. Common shares of Enbridge will continue to trade on both the New York Stock Exchange and the Toronto Stock Exchange under the symbol 'ENB'.
Further details for shareholders are available on Enbridge's website.
Read the article online at: https://www.worldpipelines.com/business-news/08112018/enbridge-and-enbridge-income-fund-holdings-complete-arrangement/
You might also like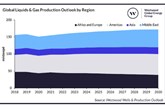 New report from Westwood finds liquids and gas production set to reach 173 million boe/d by 2030, with 9% growth on 2022 levels.