---
Sonatrach and Total have signed two agreements as part of the comprehensive partnership announced in 2017:
A new concession contract to jointly develop the Erg Issouane gas field located on the TFT Sud permit, signed by Sonatrach, Total and Alnaft (the National Agency for the Valorization of Hydrocarbon Resources).
The TFT Sud permit is located south of the Tin Fouyé Tabankort (TFT) field, of which Total is a long-standing partner. Sonatrach (51%) and Total (49%) will develop the reserves of Erg Issouane located on the TFT Sud permit estimated at more than 100 million boe. The development, which represents an investment of approximately US$400 million, will be tied back to the existing TFT gas treatment unit by a 22 km long gas pipeline. First gas is expected late 2021. The partners have also signed a gas marketing agreement. The concession contract will become effective upon approval by the Algerian authorities.
A shareholder agreement to create a joint venture known as STEP (Sonatrach Total Entreprise Polymères).
STEP will be responsible for carrying out a joint petrochemical project in Arzew, western Algeria. The project includes a propane dehydrogenation (PDH) unit and a polypropylene production unit with an output capacity of 550 000 tpy. The two partners (Sonatrach 51%, Total 49%) are planning to start the front-end engineering and design (FEED) from November. This project will allow to valorise the propane, produced in large quantities locally, by transforming it into polypropylene, a plastic for which demand is growing strongly.
"Today's agreements mark a new milestone in the development of the strategic partnership between Sonatrach and Total to continue developing the country's gas reserves by providing the best of our technological expertise," said Patrick Pouyanné, Chairman and CEO of Total.
Total in Algeria
Total's exploration and production activities in Algeria date back to 1952. In 2017, Total's production in Algeria averaged 15 000 boe/d, all of it from the TFT gas and condensate field, in which the Group currently holds a 35% in interest.
In June 2017, Total signed a new concession contract for a period of 25 years to extend the exploitation of the field, giving Total a 26.4% interest alongside Sonatrach (51%) and Repsol (22.6%). This contract has just received the approval of the Council of Ministers.
In March 2018, Total started up production from the Timimoun gas field in southwestern Algeria. The Group has a 37.75% interest in the field, which has a production capacity of 5 million m3/d of gas (around 30 000 boe/d).
Following the closing of the Maersk Oil acquisition in March 2018, Total holds a 12.25% interest in the El Merk, Hassi Berkine and Ourhoud oilfields, which have a combined production capacity of 400 000 boe/d.
In 2017, Total has also announced the acquisition of Engie's upstream liquefied natural gas (LNG) assets. This transaction added 4.6 million t to the Group's global LNG portfolio thanks to supply agreements with Sonatrach.
Read the article online at: https://www.worldpipelines.com/business-news/08102018/total-and-sonatrach-strengthen-their-co-operation-in-algeria/
You might also like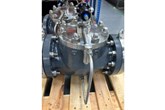 Oxford Flow expands its product range and grows market potential with new high- and low-pressure pilots.