---
SemGroup® Corporation yesterday announced that it plans to convert a portion of the White Cliffs Pipeline system to natural gas liquids (NGL) service. SemGroup owns 51% of White Cliffs Pipeline and is the operator. The project is backstopped by 10-year agreements with DCP Midstream, LP and its affiliate DCP Southern Hills Pipeline, LLC. The pipeline conversion will diversify White Cliffs Pipeline delivery capabilities and enhance service to Colorado's prolific and growing DJ Basin.
"We are excited to execute this opportunity with DCP and provide a much-needed market solution to the DJ Basin, while at the same time optimising White Cliffs to include both crude and NGL capabilities," said David Minielly, Vice President of SemGroup's crude operations. "This project provides producers and natural gas processors with a cost-effective and reliable solution to move valuable NGLs from Colorado to Mont Belvieu via Southern Hills Pipeline for processing and sale into the Gulf Coast marketplace."
As operator, SemGroup will convert one of the 12 in. diameter pipelines from crude service to NGL Y-grade service connecting the DJ Basin to Cushing, Okla. The pipeline will have an initial capacity of 90 000 bpd and will be expandable up to 120 000 bpd. It will be taken out of service late 1Q19 for conversion and is expected to be in service during 4Q19. As part of the project, SemGroup will construct a 12 mile extension of White Cliffs Pipeline south of Cushing to interconnect with Southern Hills Pipeline in order to move NGLs south to Mont Belvieu.
The 10 year agreements provide DCP and Southern Hills with 50 bpd of NGL transportation capacity on the converted White Cliffs Pipeline.
The project is estimated to cost between US$60 million and US$66 million, of which SemGroup will fund 51%. Based on the currently executed contract, the project is estimated to be constructed at less than 4x EBITDA multiple. SemGroup anticipates minimal spending on this project in 2018.
White Cliffs Pipeline and Southern Hills Pipeline will soon conduct a joint binding open season to attract additional commitments from other producers and processors in the DJ Basin. Shippers will move product under a published joint tariff between the two carriers.
Read the article online at: https://www.worldpipelines.com/business-news/08052018/semgroup-to-diversify-white-cliffs-pipeline-service-with-ngl-capabilities/
You might also like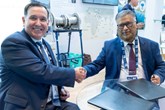 The partnership is to bring critical flange isolation offerings for the Kingdom of Saudi Arabia.