---
For the first time at the Valve World Expo, DuPont Transportation & Advanced Polymers, a global business unit of the DowDuPont Specialty Products Division (DuPont), exhibited its high-performance sealing solutions for the oil and gas industry.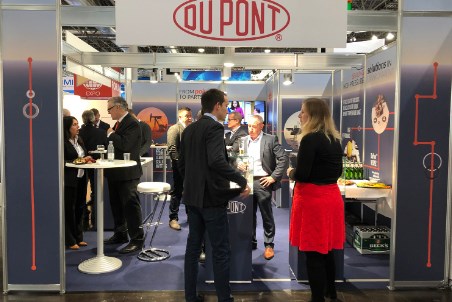 DuPont's team of experts hosted representatives from across the value chain to discuss current industry challenges and pressing sealing needs in ever more demanding environments.
DuPont also presented a breakthrough research paper at the Valve World Conference 2018. Lucie Noé, EMEA Application Engineer, demonstrated how using DuPont™ Vespel® can enable customers to reduce valve actuator size under extreme temperature ranges, from cryogenic (-196°C) to high temperatures (>300°C) and various pressure ranges.
DuPont has a long history of collaborative innovation in material science to enable customers develop solutions that help meet the most pressing industry challenges. In oil and gas, players in up-, mid- and down-stream are operating in ever more demanding high-pressure and high-temperature conditions requiring best-in-class valve and sealing solutions. The DuPont™ Kalrez® and Vespel® portfolio offers a range of high-performance parts that can help customers to meet the most stringent industry standards in terms of reliability, safety, traceability and efficiency for these critical applications.
With almost 30 years of world-class research and application development, the DuPont European Technical Center (ETC) in Meyrin (Switzerland) has become a global hub for material innovation in various leading industries. In 2017, DuPont ETC further expanded its testing capabilities for Kalrez® in High Pressure - High Temperature (HPHT) environments. With state-of-the art testing equipment, DuPont enables customers to run performance tests and generate comparative data in extreme pressure and temperature conditions (up to 1000 bars and 3000 bars maximum pressures respectively in gas and liquid phases, and from -50°C to 300°C) in both gas and liquid phases.
"We were thrilled to be at Valve World 2018, showing our dedicated offering, technical expertise and understanding of future market trends. We reasserted our commitment to work side-by-side with players along the oil and gas value chain to design parts, develop materials and produce tailored solutions that can help transform the industry," said Geoff Lewis, EMEA Application Development Manager at DuPont.
Read the article online at: https://www.worldpipelines.com/business-news/07122018/dupont-shows-sealing-solutions-at-valve-world-expo/
You might also like
Cyolo unveils key insights into OT cybersecurity threat landscape from KuppingerCole and releases Cyolo 4.3 for enhanced security.