---
TransCanada Corporation has announced that shareholders representing approximately 99.55% of votes cast approved a special resolution authorising the Company to amend its articles to change its name to: TC Energy Corporation / Corporation TC Énergie.
The common shares of the Company will continue to trade on the Toronto Stock Exchange (TSX) and the New York Stock Exchange (NYSE) under its existing trading symbol, TRP. The Company's preferred shares will also continue to trade on the TSX under their existing trading symbols. The effective date of the change of name will be the date of issuance of a certificate of amendment by the Director under the Canada Business Corporations Act, which the Company expects to receive shortly. Articles of Amendment for the name change have been filed with Corporations Canada.
Effective 3 May, the Board of Directors welcomed two new independent directors, Ms. Una Power and Mr. Steven Williams.
"On behalf of the Board of Directors, I am very pleased to welcome our two newest directors. Both Ms. Power and Mr. Williams bring extensive experience in the energy industry, and will prove to be valuable additions to our board," said Siim Vanaselja, Chair of TransCanada's Board of Directors.
Ms. Power is a Corporate Director and also serves on the boards of the Bank of Nova Scotia and Teck Resources Limited. Previously, Ms. Power was the Chief Financial Officer of Nexen Energy ULC. Mr. Williams is a Corporate Director and also serves on the board of Alcoa Corporation. Previously, Mr. Williams was the Chief Executive Officer of Suncor Energy Inc.
With more than 65 years' experience, TransCanada is a leader in the responsible development and reliable operation of North American energy infrastructure including natural gas and liquids pipelines, power generation and gas storage facilities. The Company operate one of the largest natural gas transmission networks that extends more than 92 600 km (57,500 miles), connecting major gas supply basins to markets across North America. TransCanada is a leading provider of gas storage and related services with 653 billion ft3 of storage capacity. A large independent power producer, TransCanada currently own or have interests in more than 6600 MW of power generation in Canada and the US. TransCanada is also the developer and operator of one of North America's leading liquids pipeline systems that extends approximately 4900 km (3000 miles), connecting growing continental oil supplies to key markets and refineries.
Read the article online at: https://www.worldpipelines.com/business-news/07052019/transcanada-announces-corporate-name-change/
You might also like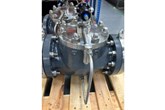 Oxford Flow expands its product range and grows market potential with new high- and low-pressure pilots.