---
American Petroleum Institute President and CEO Mike Sommers released the following statement on President Trump's State of the Union address, which highlighted two crucial API priorities: 21st century energy infrastructure and passage of the United States, Mexico, and Canada Agreement
"America's natural gas and oil industry is meeting record consumer demand and leading the world in production – all while driving emissions to their lowest levels in a generation. Our industry continues to prove every day that environmental protection and economic growth can and should go hand in hand.
"Investing in 21st century energy infrastructure remains critical to meeting that demand by safely and reliably delivering affordable natural gas and oil to America's families and businesses. We look forward to working with the House, Senate and the administration to develop a strong infrastructure package that addresses our country's growing energy needs.
"We were pleased to hear the President focus on trade. The energy markets of the US, Canada, and Mexico are highly integrated and interdependent, and the free flow of energy products across North America is part of the reason our industry supports millions of American jobs, strengthens our national security, and helps our companies deliver the energy Americans rely on every day. We urge Congress to approve the USMCA without delay.
"We urge the administration to end its policy of tariffs and quotas on steel that can slow down – or even stop – critical US energy infrastructure projects, raising the price of manufactured goods and threatening American jobs.
"I applaud the President's commitment to America's energy leadership, which has the power to unify Democrats and Republicans in a divided Congress to put up some major wins for the American people."
Read the article online at: https://www.worldpipelines.com/business-news/07022019/api-statement-on-presidents-state-of-the-union-address/
You might also like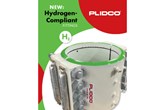 In response to the emerging transition toward hydrogen, PLIDCO has introduced a new range of products for use with hydrogen pipelines.