---
The Fibre Optic Sensing Association (FOSA), the US's premier trade association dedicated to fibre optic sensing, announced the election of five board members, as well as its officer slate for 2021, at the organisation's Annual Meeting in December.
Elected were: Kent Wardley, Fotech Solutions (Chairman); Dave Cunningham, Network Integrity Systems (Vice Chairman); Paul Baird, Prysmian (Secretary); and Steven Koles, Hifi Engineering (Treasurer).
Five directors were chosen for two year terms.
Re-elected board members include Mark Bradley, Corning; Dave Cunningham, Network Integrity Systems; Kent Wardley, Fotech Solutions; and J.J. Williams, OptaSense.
Gareth Lees of AP Sensing was elected to an inaugural board term after having served as the association's Technology Committee Chairman.
"The Fibre Optic Sensing Association and its members are committed to protecting our nation's infrastructure with advanced, innovative technologies." said outgoing FOSA Chairman Mike Hines of OFS. "Our DFOS systems convert fibre optic cable into a dense array of distributed sensors. As a result, specific events can be detected at precise locations over very long distances, generating real-time alerts."
Incoming chairman Kent Wardley added "Under Mike Hines' strong leadership, FOSA continued to establish itself as a go-to resource for people interested in learning about fibre optic sensing as a new and better way to improve safety and add to productivity through the monitoring of vital assets."
"We look forward to making more progress as an association in 2021." said Mark Uncapher, FOSA Executive Director. "We are especially gratified by the growing confidence in our association that our expanding membership demonstrates."
FOSA is a non-profit organisation created in Washington DC (USA) in 2017 with the mission of educating the industry, government, and the public on the benefits of fibre optic sensing. Through webinars, videos, white papers, public presentations, and public policy advocacy, the organisation provides information on the use of fibre optic sensing to secure critical facilities, enhance public safety, and protect the environment.
FOSA Members include AP Sensing, ASELSAN, Corning, Ditch Witch, Dura-Line, Fotech Solutions, Hawk Measurement, Hifi Engineering, Graz University, NBG Fiber Optic Corp., NEC Corp., Network Integrity Systems, NKT Photonics, OFS, Omnisens, OptaSense, OZ Optics, Prysmian Group, Sensonic, Smartpipe Technologies, Terra Sound, and the University of California, Berkeley.
Read the article online at: https://www.worldpipelines.com/business-news/07012021/fibre-optic-sensing-association-elects-2021-officers-and-board-members/
You might also like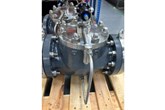 Oxford Flow expands its product range and grows market potential with new high- and low-pressure pilots.