---
One of the longest-established valve manufacturers in the world, established in Hull, East Yorkshire, UK, in 1798, is in the hands of a new owner.
Finnish technology group Wärtsilä last week (1 October 2020) announced the divestment of 100% of the shares in Wärtsilä Valves Ltd to an affiliate of Evergreen Capital L.P., based in New York.
Wärtsilä Valves is the home of three leading global brands, Shipham, Robert Cort and John Mills. With a history dating back over 200 years, the company manufactures non-ferrous and high alloy valves to the marine, oil and gas and energy markets worldwide. It has a 60 000 ft2 manufacturing facility in Hull, and employs a 65 strong team.
Wärtsilä Valves became part of the Wärtsilä group following the Hamworthy acquisition in 2012. It will now operate as a stand-alone, independent business within the Evergreen group.
Lee Amram, Partner, Evergreen Capital L.P., said: "We are pleased to add Wärtsilä Valves and its staff to the Evergreen family of businesses. Upon closing, we renamed the business Shipham Valves Ltd. We are excited to provide the resources and support to strengthen Shipham Valves' capabilities to better serve its existing and prospective customers and global markets."
Rob Moulds, Managing Director of Shipham Valves, added: "Shipham is one of the longest established and most highly respected valve manufacturers in the world. This is an exciting step for us as we pursue our vision to be the market leader in valve supply to the oil and gas market, delivering an unsurpassable customer service across our product range.
"With support from our new owner, we will expand our global reach with new agents, distribution and support networks, and will continue to build the Robert Cort, John Mills and Advanced Valve Technology brands. Under new ownership, the company will invest in up-to-date onsite machining and testing facilities, which will further enhance our production capabilities, and extend our product portfolio.
"Together with our loyal workforce here in Hull, we are proud to bring back this iconic brand to the East Riding of Yorkshire. We are looking forward to being an independent company and working with Evergreen as we develop the business and further strengthen the Shipham brand."
Evergreen Capital was advised on the transaction by Richard Moran, Tony Berry and Caitlin Hare from the corporate team at Leeds-based law firm Clarion.
Read the article online at: https://www.worldpipelines.com/business-news/06102020/new-owner-for-shipham-valves/
You might also like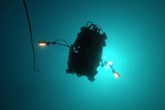 Voyis and Deep Trekker, have joined forces to achieve the successful fusion of Voyis' Discovery Camera with Deep Trekker's REVOLUTION ROV.