---
Tata Steel has emphasised its commitment to the North Sea and the global oil and gas industry by announcing a near £2 million programme of investments at its 20 in. high frequency induction (HFI) pipe mill in Hartlepool, UK, to offer a new generation of higher strength offshore construction grades.
The company's investment in Hartlepool is supported by a multi-million pound investment at its Port Talbot hot strip mill in Wales. The process investment in Port Talbot will offer enhanced low temperature toughness capabilities for HFI welded line pipe produced at the Hartlepool 20 in. mill, resulting in improved and uniform fracture toughness across the 20 in. mill's product size range.
The investment programme for the Hartlepool 20 in. mill includes £1 million, for the installation of accelerated cooling equipment, which will increase the mill's range of high-strength offerings for the structural requirements of the North Sea and the wider construction market.
The company's Celsius® accelerated cooling process has been developed in conjunction with Tata Steel's research and development teams following extensive laboratory and mill-based trials.
Tata Steel has also committed £350 000 for further safety improvements in guarding, pipe handling and immobilisation control access in the finishing and despatch areas at the 20 in. mill. This follows a £400 000 investment earlier this year in the weld mill area and is in line with the 20 in. mill's five year improvement programme to enhance workplace safety and improve productivity.
As part of its ongoing investment in product quality at the 20 in. mill, the company has spent £400 000 to install automatic laser measurement to its hot structural finishing line and upgrades to the descaling process on the RHS (rectangular hollow section) furnace to improve product surface finish.
And, as the official name badge sponsor at the Offshore Europe conference and exhibition, being held in Aberdeen from 5 – 8 September, Tata Steel will promote all the North Sea oil and gas projects which it has delivered line pipe to over the past 20 years in the form of a word cloud, depicting the quantity of steel tonnage by the size of the project name. Tata Steel personnel will also be attending Offshore Europe.
Barry Rust, Energy & Sustainability Manager, Tata Steel, said: "These important investments demonstrate Tata Steel's continued commitment to health and safety and in improving and increasing our product range to the North Sea and the oil and gas industry around the world, to help it meet ever increasing challenges.
"We've been involved in some of the largest projects in the UK Continental Shelf over the last 20 years and look forward to supporting the North Sea and the international industry for many years to come."
Read the article online at: https://www.worldpipelines.com/business-news/06092017/tata-announces-further-commitment-to-north-sea/
You might also like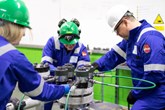 3t EnerMech named regional winner at top engineering awards for the second year in a row.