Enbridge reaffirms commitment to Michigan Environment & Energy Security
Published by Aimee Knight, Editorial Assistant
World Pipelines,
---
Enbridge Inc. (Enbridge or the Company) has confirmed it is proceeding with preparations to advance its 2019 plan in support of constructing a tunnel to house the Straits of Mackinac crossing of the Company's Line 5 pipeline. These preparations have continued to advance further since the last update and include detailed engineering, geotechnical analysis, undertaking pre-application consultation, and filing of permit applications.
As previously announced, Enbridge believes the tunnel can be under construction in 2021 and in service as soon as early 2024, assuming no delays in the permitting process. Enbridge has further committed that operation of the existing Straits Line 5 crossing would cease immediately following the placement into service of the replacement pipeline in the tunnel. This plan would avoid significant impacts to the State's energy supply, including higher energy costs, supply shortages for propane and transportation fuels and constrained supplies for regional refineries which would result if the line was shut down sooner than the new tunnel being completed as the State has suggested.
These impacts, and Enbridge's tunnel plan and related commitments have been discussed with the State in May and earlier this week. A letter on 24 May summarising Enbridge's proposed plan and benefits to Michiganders is available.
Enbridge looks forward to continue engaging the State on a path forward in support of this tunnel plan which achieves:
Robust, transparent engagement with all stakeholders including communities, tribes and customers;
Comprehensive and predictable state permitting;
Options to further shorten the timeline for the tunnel;
Additional safeguards that can be implemented in the interim operation of the Straits crossing; and
Protection of the environment, security of supply for consumers and the economy of Michigan.
Read the article online at: https://www.worldpipelines.com/business-news/06062019/enbridge-reaffirms-commitment-to-michigan-environment-energy-security/
You might also like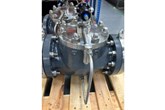 Oxford Flow expands its product range and grows market potential with new high- and low-pressure pilots.