---
India is likely to witness an operational commencement of 647 oil and gas projects during 2021 to 2025, accounting for 33% of the total upcoming project starts across the value chain in the Asia-Pacific (APAC) region, according to GlobalData.
GlobalData's report, 'Asia Pacific Oil and Gas Projects Outlook to 2025 - Development Stage, Capacity, Capex and Contractor Details of All New Build and Expansion Projects', reveals that out of 647 projects to commence operations by 2025, upstream projects would be 80, midstream would be at 123, refinery at 85, and petrochemicals would be the highest with 359 projects.
Soorya Tejomoortula, Oil & Gas Analyst at GlobalData, comments: "India is one of the largest consumers and importers of oil and gas in the world due to its economic growth. Though India is taking steps to increase oil and gas production, the focus is more on the development of midstream, refineries and petrochemicals infrastructure for greater imports, processing, transport and storage."
Downstream (refineries) and petrochemical projects together constitute about 69% of all upcoming oil and gas projects in India during 2021 to 2025. The 180 000 bpd capacity Barmer refinery is one of the key projects with a total cost of US$4.5 billion. The project is presently under the construction stage and is expected to start operations in 2025.
In petrochemicals projects, the Haldia Petrochemicals Balasore Xylene Plant (SBR) Plant is one of the key projects with a capacity of 1.6 million tpy and costing US$1.9 billion. The project has already received approval and is expected to start operations in 2024.
GlobalData notes that midstream projects would constitute around 19% of all oil and gas projects starts in India during the period 2021 to 2025. In midstream sector, pipeline segment alone constitutes 47% of all projects followed by oil storage and LNG with 36% and 14% respectively. In pipelines, the focus is on development of natural gas pipelines with Jagdishpur–Haldia Phase II being one of the key projects with a length of 1900 km and costing US$1.4 billion. The pipeline is presently in construction stage and is expected to start operations in 2022.
In the oil storage segment, Chandikhol strategic petroleum reserves project is a key development with a capacity of 30 million bbls and a project cost of US$941 million. The project has received approval and is expected to start operations in 2025. Among upcoming LNG import terminals, Karwar Floating is a key development with a capacity of 365 billion ft3 and a project cost of US$573 million.
In the upstream (fields) segment, Cluster IIA is a key production project, which would start operations in 2021 with a total production capacity of 99.7 000 boed.
Read the latest issue of World Pipelines magazine for pipeline news, project stories, industry insight and technical articles.
World Pipelines' March 2021 issue
The March 2021 issue of World Pipelines includes: a regional report on pipeline projects in Asia-Pacific; a summary of the latest and best construction equipment courtesy of the annual Heavy Equipment Review; a welding-focused Q&A; and technical articles on hot tapping, sustainable steel and decommissioning.
Read the article online at: https://www.worldpipelines.com/business-news/06042021/india-to-account-for-one-third-of-oil-and-gas-project-starts-in-apac-by-2025/
You might also like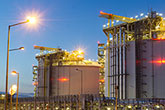 Prices pick up slightly but continue to remain deflated worldwide; prices did not respond as they did in 2022 despite disruption of gas pipeline supplies in Europe by multiple maintenance works.