---
Inter Pipeline Ltd has announced a CAN$1.46 billion capital expenditure programme for 2019. Approximately CAN$1.34 billion, or 92%, of total capital expenditures will be for organic growth initiatives with the remaining invested in sustaining capital projects.
"Our 2019 capital programme will largely be focused on construction activities related to the CAN$3.5 billion Heartland Petrochemical Complex," stated Christian Bayle, Inter Pipeline's President and CEO. "This transformational investment is proceeding according to plan with an expected completion date of late 2021. Rounding out our capital programme will be investments in various smaller scale infrastructure projects to enhance service offerings within our pipeline, NGL processing and storage business units."
NGL processing
Within this business segment, approximately CAN$1.1 billion is expected to be committed to advance the development of the Heartland Petrochemical Complex. In 2019, detailed design work and procurement of major equipment will be completed. Mechanical construction of the propane dehydrogenation plant will continue including the installation of major pressure vessels and other critical equipment modules. Site construction of the integrated polypropylene plant will also advance including the installation of the polypropylene reactor and other core mechanical components. The project continues to be on schedule and budget.
Additionally, approximately CAN$20 million will be directed toward various projects to increase processing capacity, as well as enhance product storage and delivery systems at the Redwater Olefinic Fractionator. The remaining CAN$10 million of capital will be invested in smaller organic growth projects at Inter Pipeline's NGL extraction plants.
Conventional oil pipelines
In 2019, Inter Pipeline is planning to invest approximately CAN$100 million in its conventional oil gathering business. This capital will develop several projects to serve emerging light oil plays in Alberta's East Duvernay and Viking regions.
The investments include CAN$60 million to advance the previously announced Stettler Crude Oil Terminal Expansion on the Central Alberta pipeline system. This CAN$82 million project includes the construction of two 130 000 bbl crude oil storage tanks and additional truck unloading capacity which are expected to enter service in phases between mid 2019 and mid 2020. The remaining CAN$40 million will be spent developing several smaller projects, including new midstream marketing facilities on the Bow River pipeline system.
Oilsands transportation
Approximately CAN$90 million is targeted for investment in Inter Pipeline's oil sands transportation business over the next year. Approximately CAN$50 million will support the completion of a connection from the Cold Lake pipeline system to Canadian Natural's Kirby North oilsands project. Construction of the dual 23 km pipeline and pump station is scheduled to be completed in early 2019, with an in-service date of mid 2019.
The remaining CAN$40 million of capital will be invested in various organic growth projects on the Cold Lake, Polaris and Corridor pipeline systems.
Bulk liquid storage
Inter Pipeline is planning to spend approximately CAN$20 million in 2019 to meet increased demand for storage at certain facilities located in the UK, Sweden and Germany, as well as the recently acquired terminal in the Port of Amsterdam.
Sustaining capital
Inter Pipeline expects to invest approximately CAN$120 million in sustaining capital expenditures in 2019. Approximately CAN$30 million will be allocated to the replacement of processing equipment and the improvement of site infrastructure within the company's NGL processing business segment. A further CAN$30 million will be directed towards corporate infrastructure including enhancements to information technology systems.
Approximately CAN$40 million will be devoted to improvements to the bulk liquid storage assets, with the remaining CAN$20 million spent on a range of projects across Inter Pipeline's pipeline transportation businesses.
Financing
Inter Pipeline continues to maintain a strong balance sheet with significant liquidity available on its committed revolving credit facility. Funding for Inter Pipeline's 2019 capital programme is expected to be provided through a combination of undistributed cash flow from operations, capacity available under its existing CAN$1.5 billion revolving credit facility, the periodic issuance of new term or hybrid debt securities and proceeds from existing dividend re-investment programmes.
Read the article online at: https://www.worldpipelines.com/business-news/05122018/inter-pipeline-announces-capital-expenditure-programme-for-2019/
You might also like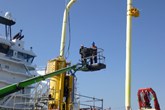 AIS awarded another custom coating project offshore Brazil.