---
The offer, from a Moroccan investment bank, could unlock a critical element of Sound's commercialisation plan for the significant Tendrara gas discovery.
British oil and gas company Sound Energy PLC told investors that it has received a funding offer for its eastern Morocco gas project.
The indicative, non-binding proposal comes from Advisory & Finance Group Investment Bank (AFG), a Moroccan financial institution that funds Oil & Gas Investment Fund (OGIF), Sound Energy's partner and soon-to-be major shareholder.
It proposes to provide some US$60 million -100 million to build the envisaged Tendrara Gas Export Pipeline (TGEP) which will be needed to connect Sound Energy's significant gas discovery to markets in Morocco and southern Europe.
TGEP will be a critical element in the commercialisation of the Tendrara project, Sound Energy highlighted.
The company explained that the AFG proposal was made on behalf of a range of institutions, including shareholders of OGIF, and, that some of these investors may also be prepared to support the funding of gas processing facilities.
OGIF is due to formally become a shareholder in Sound Energy before the end of the third quarter, upon conclusion of previously announced transactions, which will see Sound Energy increase its footprint in the region surrounding Tendrara in exchange for equity.
Sound Energy estimates the cost of the pipeline construction at around US$60 million for a 12 in. pipeline and US$100 million for a 20 in. pipeline.
Sound Energy said that connection to the Gazoduc Maghreb Europe, and therefore to the Moroccan and Southern European gas markets, would support its strategy to access infrastructure connected to growing domestic and international gas markets.
Since last July, AFG had expressed its interest in financing, constructing, and operating a new pipeline linking the Tendrara deposit to the Maghreb-Europe pipeline.
The pipeline that would connect Tendrara to regional infrastructure, effectively opening up the export route to the rest of Morocco and southern Europe.
Read the article online at: https://www.worldpipelines.com/business-news/05092017/offer-made-for-tendrara-pipeline/
You might also like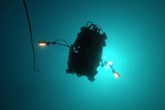 Voyis and Deep Trekker, have joined forces to achieve the successful fusion of Voyis' Discovery Camera with Deep Trekker's REVOLUTION ROV.