---
President Donald Trump's planned 25% import tariff on steel is likely to be a gift to OPEC and Russia. His announcement last week will be beneficial for steel towns, because the tariff aims to protect American producers from 'unfair' competition from cheaper foreign suppliers. However, it is a concern for the oil and gas industry since it will inevitably drive up costs for the nation's producers.
The oil and gas industry relies on foreign steel to build projects such as pipelines, petrochemical plants and LNG export terminals, according to the American Petroleum Institute. A study conducted by ICT International consultants, on behalf of five pipeline industry bodies, found that approximately 77% of the steel used in line pipe in recent years was imported, either in the form of finished pipe or the raw material used to fabricate it in the US.
Steel used in oil pipelines has to meet rigorous technical specifications to ensure it doesn't corrode or fracture during a lifetime that may exceed 30 years. There are serious concerns about whether US steelmakers would be able to handle higher volumes and produce all grades of steel necessary for industrial production. API CEO and President Jack Gerard said in a statement, "the US oil and natural gas industry, in particular, relies on specialty steel for many of its projects that most US steelmakers don't supply."
When Trump's tariff becomes law, pipeline companies will see an increase in the cost of steel they require. This increased cost will likely be passed on to the oil and gas producers who use their lines and, subsequently, the American consumers.
A 25% increase in the cost of imported line pipe, fittings and valves would raise the cost of a 280 mile oil pipeline by US$76 million. This size would be typical of those pipelines used to carry shale oil from the Permian Basin to the Gulf coast. Considering a mega project, such as the Dakota Access pipeline, the cost increase could be approximately US$300 million.
The US oil and gas industry is producing at record levels – 10.3 million bpd of crude oil and 78 billion ft3/d of gas – and continually strengthening their position as the world's largest oil and gas producer. Moreover, there is large pipeline build-out coming to deliver energy across the US and to support in exporting any surplus around the world, to reduce the influence of Russia and OPEC. The 25% tariff on imported steel has been considered by those in the oil industry as being in opposition to the Trump administration's own stated goal of 'American energy dominance'.
Read the article online at: https://www.worldpipelines.com/business-news/05032018/trumps-steel-tariff-is-a-concern-for-the-oil-and-gas-industry/
You might also like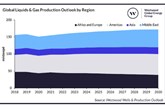 New report from Westwood finds liquids and gas production set to reach 173 million boe/d by 2030, with 9% growth on 2022 levels.