---
In 2017, Transneft Diascan inspected more than 4200 km of pipelines at foreign clients' facilities, mainly in Iran, Brazil and Kazakhstan.
In the past year, Transneft Diascan specialists inspected over 2700 km of Iranian pipelines, in addition to 729 km of Brazilian pipelines and 313 km of Kazakh pipelines.
Furthermore, the company's specialists carried out inline inspections in Mexico, Singapore, China, Oman and Malaysia.
To date, Transneft Diascan has completed inline inspection projects in 14 countries, including its first inspections of pipelines in Oman, China and Singapore.
In 2018, Transneft Diascan is going to further expand its international portfolio. In particular, the company plans to commence work in Algeria, Argentina, India and Indonesia.
Read the article online at: https://www.worldpipelines.com/business-news/05022018/transneft-looks-back-at-pipeline-inspections-in-2017/
You might also like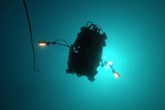 Voyis and Deep Trekker, have joined forces to achieve the successful fusion of Voyis' Discovery Camera with Deep Trekker's REVOLUTION ROV.