---
Forum Energy Technologies, Inc. has announced that on 31 December, 2020 it completed the sale of assets associated with its ABZ and Quadrant valve brands to Anvil and Smith-Cooper International. Total consideration for the transaction was US$105 million in cash. As part of the transaction, Anvil and Smith-Cooper will employ the ABZ and Quadrant employees primarily located at the operations located in Madison, Kansas and Broussard, Louisiana.
Cris Gaut, Forum's Chairman and Chief Executive Officer, commented, "This important transaction significantly improves our liquidity and financial flexibility, and continues the improvements made to Forum's capital structure during 2020. Pro-forma for the sale proceeds, our net debt would be reduced by over one-third from the US$308 million level at 30 September, 2020. In 2021 we will remain focused on further improving our financial position and continuing quarterly positive free cash flow.
"I am enthusiastic about Forum's strategic positioning and future for a number of reasons:
Our cash balance equates to more than 150% of our equity market capitalisation;
The further cost reduction measures we announced in our third quarter 2020 earnings call will improve our profitability and further enhance our earnings leverage as revenue grows;
We expect our revenues to remain highly correlated with the recovering level of drilling and completion activity; and
Our balance sheet, with significant cash on hand, a virtually undrawn credit facility that matures in late 2022 and convertible notes maturing in 2025, positions Forum to thrive in this opportunity-rich market environment.
In 2020, the ABZ and Quadrant product families generated revenues of approximately US$42 million and made an EBITDA contribution of approximately US$12 million. In each of 2018 and 2019, ABZ and Quadrant represented approximately 15% of the Adjusted EBITDA contribution from all Forum product lines, before corporate costs. This divestiture increases Forum's focus on the growing level of drilling and completion activity, with the US drilling rig count up by over 40% since August 2020.
The teams at ABZ and Quadrant have been a part of the Forum family since 2010 and we are grateful for their contribution over these many years. These brands will prove complementary to Anvil and Smith-Cooper International and we believe the ABZ and Quadrant employees will see new and expanding opportunities as a result."
Read the article online at: https://www.worldpipelines.com/business-news/05012021/forum-energy-technologies-divests-abz-and-quadrant-valve-brands/
You might also like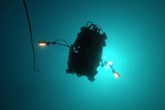 Voyis and Deep Trekker, have joined forces to achieve the successful fusion of Voyis' Discovery Camera with Deep Trekker's REVOLUTION ROV.