---
Reuters: Canadian oil company Frontera Energy announced yesterday that it had stopped production at Peru's largest oilfield after a Peruvian-owned pipeline was severed last week by indigenous protesters.
Reuters reports that Frontera Energy has released a statement confirming that production at the oilfield, located 200 km (124 miles) from the pipeline rupture, would stop while authorities worked to resolve the dispute with the community.
State-owned oil company Petroperu, which operates the pipeline, flagged on Friday that Frontera may be forced to halt production, and estimated that losses could amount to around US$200 000/d.
Last week, a group of residents in an Amazon region inhabited by the indigenous Mayuriaga community severed the pipeline and then prevented technicians from repairing it, according to Petroperu.
Frontera said that the company expects to restart operations "shortly" after the pipeline is repaired. Recent net production at the oilfield has averaged 8950 bpd.
Petroperu estimates that the rupture may have caused some 8000 bbls of oil to spill, although the company said that oil has not contaminated water sources in the area. The company has shut off crude oil from flowing through the pipeline.
Frontera Energy temporarily operates lot 192, a production site which is located in the Amazon region of Loreto and has around 100 million bbls in reserves. The company's contract expires in March 2019.
The 1100 km pipeline that transports crude from the oil fields of the Peruvian jungle to the Petroperu refinery on the Pacific coast has suffered dozens of attacks since it began operating four decades ago.
Since 2016, nearly 20 000 bbls of oil have been spilled from the pipeline in at least 15 attacks, and another 5600 bbls have leaked due to corrosion of mechanical failures, according to official estimates.
Read the article online at: https://www.worldpipelines.com/business-news/04122018/frontera-stops-pipeline-after-peru-attack/
You might also like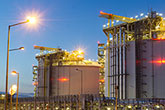 Prices pick up slightly but continue to remain deflated worldwide; prices did not respond as they did in 2022 despite disruption of gas pipeline supplies in Europe by multiple maintenance works.