Holly Energy Partners and Plains All American announce Cushing Connect joint venture
Published by Aimee Knight, Editorial Assistant
World Pipelines,
---
Holly Energy Partners, L.P. ('HEP') and Plains All American Pipeline ('Plains') have announced the formation of a 50/50 joint venture, Cushing Connect Pipeline & Terminal LLC (the 'Joint Venture'), for (i) the development and construction of a new 160 000 bpd common carrier crude oil pipeline (the 'Pipeline') that will connect the Cushing, Oklahoma crude oil hub to the Tulsa, Oklahoma refining complex owned by a subsidiary of HollyFrontier Corporation and (ii) the ownership and operation of 1.5 million bbls of crude oil storage in Cushing, Oklahoma (the 'JV Terminal').
The JV Terminal is expected to be in service during the second quarter of 2020, and the Pipeline is expected to be in service during the first quarter of 2021. Long-term commercial agreements have been entered into to support the Joint Venture assets.
The Joint Venture will contract with an affiliate of HEP to manage the construction and operation of the Pipeline and with an affiliate of Plains to manage the operation of the JV Terminal. The total Joint Venture investment will be shared proportionately among the partners and is estimated to total approximately US$130 million, including the existing JV Terminal contributed by Plains valued at approximately US$40 million. The Joint Venture is expected to generate an initial annual EBITDA multiple of approximately 8x to 9x once the JV Terminal and Pipeline are placed into Joint Venture service.
"The new Joint Venture will provide growth to HEP by insourcing logistics spend and provide the capability to supply 100% of HFC's Tulsa Refinery crude throughput," commented George Damiris, Chief Executive Officer of the general partner of Holly Energy Partners. "Our partnership with Plains generates HEP growth while providing HFC long-term control of a strategic asset."
"This win-win Joint Venture aligns with our strategy of optimising existing assets to provide value-chain solutions for long-term industry partners in a capital efficient manner," stated Jeremy Goebel, Executive Vice President – Commercial, Plains All American. "This investment expands our relationship with a key operational hub service customer and provides additional long-term alignment on movements to the Tulsa refinery."
Read the article online at: https://www.worldpipelines.com/business-news/04102019/holly-energy-partners-and-plains-all-american-announce-cushing-connect-joint-venture/
You might also like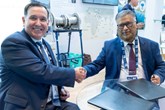 The partnership is to bring critical flange isolation offerings for the Kingdom of Saudi Arabia.