GlobalData: strategic adoption of cloud computing can alleviate oil and gas industry challenges
Published by Aimee Knight, Editorial Assistant
World Pipelines,
---
Cloud computing allows oil and gas companies to scale their data management and storage, driving greater flexibility in infrastructure costs. The high computing power delivered via cloud platforms supports the adoption of other technologies such as the intelligent management of physical assets, which facilitates greater operational efficiency, says GlobalData, a leading data and analytics company.
GlobalData's latest thematic report, 'Cloud Computing in Oil & Gas', notes that cloud computing is a facilitator for the adoption of other valuable time, money and energy saving technologies, including artificial intelligence and machine learning.
Ella Benson Easton, Oil and Gas Analyst at GlobalData, comments: "The cloud enables companies to remotely monitor and maintain wells, fields and production units. The data can be analysed in the cloud in order to determine when assets require maintenance, limiting unexpected outages and making better decisions as to when to intervene."
A digital oilfield is comprised of many industrial internet of things (IIoT) devices, which gather data about the processes in the oilfield. The data can be stored in the cloud, which provides a scalable storage solution to vast amounts of accumulated data. Cloud technology is often affordable than private servers, as companies pay for only as much storage space as they use. This can slim down expenses.
Easton adds: "Adopting the cloud and associated technologies can be an effective strategy to protect against universal industry challenges. Cloud adopters will be better placed to swiftly implement new time, energy and cost saving technologies that will help oil and gas companies adapt to the changing industry."
GlobalData's thematic research identifies BP, Chevron, ExxonMobil, Shell and Total among the leaders in the cloud theme in the oil and gas industry. It also highlights some of the specialist cloud solution providers for the oil and gas industry - namely AVEVA, Cegal, Emerson, Halliburton, Microsoft Azure, Pivvot and Schlumberger.
Cloud computing broadly offers services, such as software as a service (SaaS), platform as a service (PaaS) and infrastructure as a service (IaaS). The SaaS offering is expected to account for more than 50% of global cloud services revenue for energy sector by 2024.
The ongoing COVID-19 pandemic has intensified difficulties for the oil and gas industry. Major markets have seen increased volatility since March 2020, with oil prices suffering particularly badly.
Easton concludes: "The strain on industry profitability has been augmented by COVID-19 and the associated oil price crash. Longer-term trends, such as technological maturation and updated infrastructure are also slowly eroding the supremacy of oil and gas. In this environment, efficiency can only really help oil and gas companies by allowing them to eke out profits from the same raw materials for a little longer."
Read the article online at: https://www.worldpipelines.com/business-news/04082020/globaldata-strategic-adoption-of-cloud-computing-can-alleviate-oil-and-gas-industry-challenges/
You might also like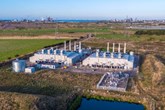 This is the first customer that has been announced for Kellas Midstream's H2NorthEast Teesside hydrogen project.