---
Pipeline technology specialist, STATS Group, is growing its market share across the Americas and expects activity in the US and Canada to improve further with turnover growing by more than 70% in both countries.
STATS revealed it had recently invested approximately £2 million (US$2.5 million) in new premises and associated infrastructure to support growth plans in the Americas.
Revenues in Canada are expected to grow in 2019 to £6.5 million (US$8.2 million), an increase of 35% on the previous year, while in the US 2019 income is expected to be around £6.7 million (US$8.4 million), up by 131% on the previous year, and if achieved will represent a combined 71% increase in total revenues in the Americas of £13.2 million (US$16.6 million).
STATS has expanded into larger premises in Edmonton, Canada, and the company is now manufacturing and assembling a range of its patented isolation tools in-country for sale to clients, in addition to being available on a project basis.
The strategy of introducing the product sale model is a result of client demand and has appealed to clients who are seeking bespoke engineering solutions, proven technologies, and immediate access to STATS technology.
One leading North American gas utility company has taken possession of a package of equipment including STATS patented BISEP isolation tools, slab valves and SureTap hot tapping machines, while another well-known pipeline company has added a selection of large diameter BISEPs and slab valves to their inventory.
Investing in a new 35 000 ft2 Edmonton facility that combines an office, workshop and extensive fabrication capacity, means STATS can now assemble, manufacture, support and test a larger number of components and tools in Canada, allowing a quicker and more efficient turnaround for the end-user.
Stephen Rawlinson, STATS Regional Director for Americas region, said: "This investment in larger facilities underlines our commitment to the Canadian energy and utilities sector and gives us the ability to provide high quality client-specific solutions in a much shorter timeframe.
"Traditionally, we have provided our industry-leading technology and services to clients on a rental basis but the introduction of product sales has proved extremely popular. This is really driving sustainable growth in our Canadian business, despite overall negativity in the Canadian oil and gas industry due to a lack of pipeline market access.
"This natural extension of our strategy gives customers immediate access to our equipment, and our portfolio has been strongly endorsed by major players in the sector as tried, tested and trusted technologies. We now have in place the infrastructure to support an increase in product sales and we are already seeing the fruits of this investment."
STATS success in Canada has been mirrored in onshore US projects and Gulf of Mexico scopes with the Houston team, led by President and General Manager Scott McNae, expected to substantially increase its local workforce by the end of 2019.
In the US, STATS has been engaged by several major operators on an increasing number of complex intervention projects which delivered isolation­ results not previously achieved by rival technologies.
A buoyant US market, where clients are upgrading infrastructure to improve output or replacing ageing infrastructure, has opened up new opportunities for STATS in the Mid/Northern US states and in downstream Gulf of Mexico projects.
Scott McNae said: "The market is in good health and we have been able to respond to this buoyancy by supporting small to large diameter pipeline projects with technologies which offer more robust isolations than previously available.
"Our BISEP range is now a mature technology which offers a safer, fully tested and monitored double block and bleed isolation, that is now increasingly being used in the market as the go-to solution. The BISEP is also available with an integrated bypass option, which has allowed STATS to provide engineered solutions that were previously not available, providing our clients with several different isolation options."
STATS' BISEP equipment is interoperable with other supplier fittings and the company has gained traction with new clients who value a high integrity isolation for safety critical repair and maintenance operations, said Scott McNae.
He added: "On Gulf of Mexico scopes we have rolled out our BISEP and subsea hot tapping capability, building up a strong track record of delivering incident free, cost efficient results."
Read the article online at: https://www.worldpipelines.com/business-news/04072019/expansion-across-the-americas-in-pipeline-for-stats-group/
You might also like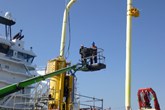 AIS awarded another custom coating project offshore Brazil.