---
USA Compression Partners, LP (USAC), Energy Transfer Partners, LP (ETP) and Energy Transfer Equity, LP (ETE) this week announced that USAC has (i) completed its previously announced acquisition of the CDM compression business from ETP, in exchange for US$1.232 billion in cash (including customary closing adjustments), approximately 19.2 million USAC common units and approximately 6.4 million USAC Class B units, and (ii) cancelled its incentive distribution rights and converted its economic general partner interest into a non-economic general partner interest, in exchange for the issuance to its general partner of 8 million USAC common units. The USAC Class B units issued to ETP will not pay quarterly cash distributions for the first four quarters following closing and will convert into USAC common units on a one-for-one basis after such time. USAC funded the cash consideration for the transaction with proceeds from the issuance in private placements of preferred units and senior notes, and borrowings under its revolving credit facility.
In addition to the above transactions, ETE completed its acquisition of USAC's general partner and approximately 12.5 million USAC common units from USA Compression Holdings, LLC in exchange for US$250 million in cash.
CDM currently owns and operates approximately 1.6 million hp of natural gas compression and is focused primarily on large horsepower applications. The acquisition of CDM is expected to provide significant benefits for USAC unitholders as the combined business will have increased geographic coverage and will be one of the leading domestic compression providers. The acquisition further expands USAC's geographic presence into regions where USAC was previously underrepresented and results in USAC having broad coverage across US regions. As part of its overall service offerings, CDM also provides a full range of gas treating and emissions testing services. CDM's treating activities are complementary to USAC's growing station services offerings, in which USAC provides turnkey gas handling solutions for customers. With over 70% of horsepower greater than 1000 hp and an average unit size of approximately 700 hp, the CDM fleet has an average age of approximately 7 years and a current operating utilisation rate of over 90%. On a pro forma combined basis, USAC owns and operates a compression fleet of approximately 3.4 million hp.
The transaction is expected to strengthen ETP's balance sheet by allowing ETP to use the cash proceeds from the transactions to reduce leverage.
Read the article online at: https://www.worldpipelines.com/business-news/04042018/usac-and-energy-transfer-partners-announce-completion-of-transactions/
You might also like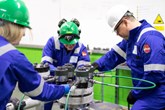 3t EnerMech named regional winner at top engineering awards for the second year in a row.