---
Pipeline technology specialist, STATS Group, is targeting new opportunities in the Australian and Papua New Guinea oil, gas and industrial sectors by extending its relationship with OSD Pty Limited. This follows on from a similar agency agreement covering the New Zealand market which has resulted in positive results for both companies and their clients.
STATS specialise in the provision of pipeline isolation, repair and integrity services, including the design, supply and provision of specialised test, intervention and isolation tools, to the international oil and gas industry.
OSD is a leading engineering, operations and commercial services provider to the oil and gas, pipelines and facilities, process, refining, water and hydro-transport sectors. It provides a range of field services for major infrastructure owners, including maintenance, pipeline pigging and integrity management, supported by one of the largest teams of professional pipeline engineers in Australia.
The companies have successfully collaborated on three pressurised pipeline isolation projects in New Zealand and plan to use this template to grow their respective businesses in Australia.
STATS also strengthened its track record in the Australian oil and gas sector with the completion last year of a 10 in. onshore pipeline isolation in Victoria and an 18 in. offshore isolation on a platform offshore off Victoria, and is currently working on a further offshore project in the region for the same international operator.
STATS DNV GL type approved isolation tools provide fail-safe double block and bleed isolation allowing sections of pressurised pipework to be vented, creating safe worksite conditions for repair and maintenance to be carried out, often without affecting production.
STATS Group Regional Sales Manager for Asia Pacific, Gareth Campbell, said: "Our patented BISEP hot tapping and plugging range of tools offer a higher level of isolation than other available options and we are delighted that major operators in Australia are embracing this new technology.
"Specialist double-block and bleed tooling has not been readily available in the past and we have found clients value the enhanced isolation integrity we can provide for their brownfield assets.
"The template we have established with OSD in New Zealand is working extremely well and we look forward to rolling this out to tap in to the many opportunities that Australia's onshore, offshore and emerging LNG markets has to offer."
OSD's Asset Services Manager, Jarrod Woolnough said: "We are delighted to be able to announce an extension of our successful New Zealand partnership with STATS as it further supports our drive for excellence in providing world class engineering, technical and innovative solutions to industries toughest challenges.
"Our strong organisational alignment provides a unique opportunity for pipeline operators to efficiently implement solutions that improve the overall operations, maintenance and growth activities across their asset base."
Read the article online at: https://www.worldpipelines.com/business-news/04042018/stats-add-australia-and-png-to-osd-agency-agreement/
You might also like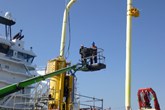 AIS awarded another custom coating project offshore Brazil.