---
Bayat Power, the power production division of Bayat Energy, Afghanistan's largest Afghan-owned Energy Exploration, Development and Production Company, announced this week that the Government of The Islamic Republic of Afghanistan (GIRoA), provided final approval for the construction of Bayat Power-1, Bayat Power's gas to electricity power plant, which will be located in Sheberghan, the capital city of Jowzjan province.
During an official signing ceremony presided over by President Ashraf Ghani of Afghanistan at the Presidential Palace in Kabul, His Excellency, Aman Ghalib, CEO of Da Afghanistan Breshna Sherkat (DABS), of Afghanistan, and Dr. Ehsan Bayat, Founder and CEO of Bayat Power, signed the final GIRoA-Bayat Power-1 Power Purchase Agreement (PPA) and Implementation Agreement.
The signing ceremony was attended by many high ranking governmental officials, including Dr. Mohammad Qayoumi, Senior Advisor to the President for Infrastructure, Mr. Ajmal Ahmady, Senior Advisor to the President for Economy and Banking, Mr. Eklil Hakimi, Minister of Finance and Ms. Nargis Nehan, the Acting Minister of Mines and Petroleum.
The Bayat Power-GIRoA PPA, authorises the sale of 40 MW of electrical generation capacity – enough power for 1 million Afghans and businesses –from the Bayat Power-1 plant to The Government of Afghanistan. The electric power generated from Bayat Power-1 will be distributed through Da Afghanistan Breshna Sherkat (DABS), Afghanistan's national power company.
The approval of The Bayat Power-1 Power plant, together with Bayat Power's PPA with the Government of Afghanistan – the first ever gas to power PPA concluded between an Afghan-owned energy producer and the Afghan government – provides both parties with important advantages, including:
The development of an Afghan-owned energy exploration, production, generation and distribution sector, which will strengthen Afghanistan's energy self-sufficiency.
A long term, recurring revenue stream for the Government of Afghanistan, through the sale of natural gas.
The provision of electric power that is stable, scalable and affordable to the people of Afghanistan.
Bayat Power-1 will generate power using a series of advanced Siemens SGT-45 mobile turbines, which are designed and manufactured in Houston, Texas. The construction and operation of Bayat Power-1 will help create scores of jobs in America, and also a future of energy independence for Afghanistan.
"This final approval for the construction of Bayat Power-1, together with the execution of our Power Purchase Agreement with the Government of Afghanistan means that we can now provide power to an additional 1 000 000 Afghans and businesses," said Dr. Ehsan Bayat, the Founder of Bayat Power and the Chairman of The Bayat Group.
"We are thankful for the support of the Afghan Government and for their assistance in developing the nation's natural resources," Dr. Bayat said.
"We're an Afghan company, committed to developing Afghanistan's rich natural gas reserves, so that we can provide Afghans with reliable and affordable electric power," Dr. Bayat said. "Investing in Afghanistan's domestic energy industry – and increasing our nation's energy production – will drive Afghanistan's economic growth, and help create new industries, jobs and opportunities which will benefit our entire country."
Read the article online at: https://www.worldpipelines.com/business-news/04042018/afghanistan-government-approve-bayat-1-power-project/
You might also like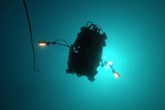 Voyis and Deep Trekker, have joined forces to achieve the successful fusion of Voyis' Discovery Camera with Deep Trekker's REVOLUTION ROV.