---
On 2 November 2017, Talen Energy Corporation (Talen Energy) and New Jersey Resources Corporation (NJR) announced the execution of a definitive agreement for the sale of 100% of the equity interests in Talen Energy's Interstate Energy Company LLC (IEC) pipeline subsidiary to Adelphia Gateway, LLC (Adelphia), a subsidiary of NJR. Talen Energy's IEC subsidiary currently owns and operates an 84 mile pipeline that interconnects the producing region of southeastern Pennsylvania to the Philadelphia gas market.
Main description:
Aggregate consideration for the sale is US$189 million payable in cash, of which up to US$23 million is contingent cash consideration based on certain specified conditions. The sale is expected to close in approximately 12 months, following receipt of all necessary permits and regulatory actions, including those from the Federal Energy Regulatory Commission and the Pennsylvania Public Utility Commission.
"Since December of 2016, Talen Energy's new management team has continued to deliver on its plan to improve the company's operational performance and divest non-core assets, while generating significant cash flow," said Ralph Alexander, Talen Energy's Chief Executive Officer. "This transaction will allow the company to monetise an under-utilised resource for significant cash value. We continue to evaluate the potential of Talen Energy's remaining real estate and natural gas asset footprint, including the company's significant natural gas demand across our power generation fleet."
As part of the agreement, Talen Energy subsidiaries will enter into contracts with Adelphia, whereby the northern portion of the pipeline will continue to supply natural gas to Talen Energy's Martins Creek and Lower Mount Bethel generating stations. The southern 50 mile portion of the pipeline will be repurposed by Adelphia to flow natural gas to the greater Philadelphia region and provide customers with a new source of clean, safe and low cost natural gas supply.
"The sale of the IEC pipeline, together with our previously announced non-core asset sales, completes the execution of Talen Energy's US$325 million non-core asset sale program announced earlier this year. I am pleased to report that we have met and exceeded this target approximately one year ahead of the schedule we committed to our investors," said Alex Hernandez, Talen Energy's Chief Financial Officer. "The IEC pipeline sale will be EBITDA neutral for Talen Energy as our gas transportation costs paid to Adelphia will be offset by O&M savings related to the sale."
Read the article online at: https://www.worldpipelines.com/business-news/03112017/talen-energy-sells-iec-pipeline-to-new-jersey-resources/
You might also like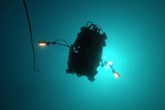 Voyis and Deep Trekker, have joined forces to achieve the successful fusion of Voyis' Discovery Camera with Deep Trekker's REVOLUTION ROV.