---
In the latest blow to the industry, suspected militants have bombed a state-run oil pipeline. Though the attack is yet to be claimed, a militant group in Nigeria's southern Niger Delta attacked the Trans Forcados oil pipeline, which is operated by the Nigerian National Petroleum Corporation (NNPC), on 1 November.
The attack occurred just hours after President Muhammadu Buhari met with community leaders from the Niger Delta. It is suspected that the Niger Delta Greenland Justice Mandate group may be behind the attack since its members were not given a place at the talks that took place.
The meeting
Niger Delta is the largest source of OPEC members' oil. Community leaders from the region met President Muhammadu Buhari on 2 November and reportedly posed a series of demands. They requested that the President pulls the army out of the oil hub and oil firms to move their headquarters' to the area. They hope that this will enhance development and put an end to militancy in Niger Delta.
This week's meeting was the first time Buhari met local representatives since the militants began attacks on oil pipelines in January. The aim of these groups is to push for the impoverished region to receive a greater share of oil revenues.
Ultimately, the first meeting with Niger Delta's community leaders on the issue ended inconclusively, with the president saying that he would weigh their concerns alongside an upcoming report from security agencies and "revisit the situation" at an unspecified date.
The attack
According to the military, troops were taking part in a routine patrol in Delta State when they heard an explosive sound at Batan Flow Station around Ekweregbene, believed to have been caused by attackers.
A spokesman for NNPC, Garba Deen Muhammad, later confirmed the attack, stating: "Production is affected but I cannot tell you by what magnitude."
The flow station is located between Warri and the Forcados oil terminal, which resumed crude exports last week following repairs due to a previous attack.
The Trans Forcados pipeline was bombed in July and only resumed operations recently, defying militant warnings that no repairs should be carried out on attacked installations. The pipeline carries crude and gas to the 400 00 bpd Forcados export terminal owned by Shell.
Oil price and strength of the dollar
Although attacks had cut oil production by around a third in recent months, the oil minister has recently stated that production was back up to 2.1 million bpd. This production rise follows a ceasefire observed by many militant groups in the region over the last few months. Nigeria has held talks in an attempt to end the violence but no lasting ceasefire has been agreed in the region.
According to Reuters, crude oil futures rose as an attack on a Nigerian oil pipeline and a weaker US dollar buoyed sentiment in the market. Brent crude was trading up 50 cents, or 1.1%, at US$47.36/bbl by 0640 GMT. US crude was up 40 cents, or 0.9%, at $45.74/bbl.
Crude prices were underpinned by concerns regarding supply disruptions, after this most recent pipeline attack.
Read the article online at: https://www.worldpipelines.com/business-news/03112016/militants-attack-nigerian-pipeline/
You might also like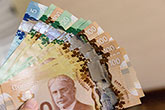 Trans Mountain Corp applies to regulators for tolls on its long-delayed 590 000 bpd pipeline expansion.