---
TC Energy Corporation (TC Energy or the Company) has announced that its wholly-owned subsidiary, Columbia Gas Transmission, LLC (Columbia), filed a general Natural Gas Act Section 4 rate case with the US Federal Energy Regulatory Commission (FERC). With this filing, Columbia's first Section 4 rate case in over 20 years, Columbia is seeking to recover its prudently-incurred operating costs, a fair return on and of its historical investment in its expansive system and to establish a third phase of its precedent-setting modernisation programme.
Columbia has significantly enhanced its natural gas infrastructure over the last decade in response to changing market conditions. Most notably, as a result of a collaborative effort with its customers and regulators, Columbia implemented modernisation programs in 2012 and 2016 and will have invested more than US$2.5 billion in various system enhancements by the end of 2020. The work done under these programs has led to improvements in reliability of service, integrity of assets and efficiency of operations while reducing emissions. An extension of the programme is expected to continue this trend.
"The modernisation and other capital investments we've made over the years have provided our customers with more reliable access to low-cost natural gas and premium markets that are required to continue to grow the US and global economies," said Stanley Chapman III, TC Energy Executive Vice President and President, US Natural Gas Pipelines. "We continue to improve the Company's strategic position by enhancing our existing robust energy infrastructure with increased efficiency and reliability."
The need for energy is essential to daily life, and so too is the need to address climate change concerns. TC Energy's efforts to address greenhouse gas emissions associated with the Columbia system have resulted in approximately 258 000 metric tons of total CO2e emissions avoided since this cycle of targeted investment was initiated in 2013, which is equivalent to removing 56 000 cars from roadways. Based on the work currently completed, it is estimated approximately 57 000 metric tons of CO2e emissions will continually be avoided on an annual basis.
Consistent with the Company's overall sustainability focus, the proposed third phase of Columbia's modernisation programme would take place over seven years and would permit Columbia to incur and recover an investment of up to US$3 billion without the need to file additional rate cases.
Columbia intends to commence collaborative settlement discussions with its shippers, regulators and other stakeholders later this year in an effort to reach a mutually beneficial resolution to this filing.
Read the article online at: https://www.worldpipelines.com/business-news/03082020/tc-energy-files-rate-case-for-columbia-gas-transmission-system/
You might also like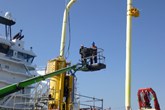 AIS awarded another custom coating project offshore Brazil.