Tallgrass Energy announces open season for further Pony Express pipeline expansion
Published by Aimee Knight, Editorial Assistant
World Pipelines,
---
Tallgrass Energy, LP, through its affiliate Tallgrass Pony Express Pipeline, LLC (Pony Express), has announced a new project to support crude oil production in northern Weld County, Colorado, near the border between Wyoming and Colorado.
The Hereford Project will include approximately 30 miles of new 12 in. pipeline, as well as expanded capacity on the Pony Express system.
Sufficient interest arose during Pony Express' existing open season for expansion capacity from origin points in Colorado and Wyoming to destinations along the system to justify the Hereford Project as a stand-alone project.
The new 30 mile pipeline, the Hereford Lateral, will connect crude oil gathering facilities and/or terminal facilities near Hereford, Colorado, with existing Pony Express facilities located near the Pawnee origin facility in Weld County. Pony Express expects the Hereford Lateral to be in-service by July 2019, and the expansion capacity on the existing Pony Express system to be in-service by May 2020 – both ahead of the larger Pony Express system expansion announced 22 January 2019.
Pony Express is launching a limited open season to allow interested parties the opportunity to commit to the Hereford Project. The Hereford Open Season will run from 1 May 2019, to 15 May 2019. The deadline for bids is 15 May 2019.
Read the article online at: https://www.worldpipelines.com/business-news/03052019/tallgrass-energy-announces-open-season-for-further-pony-express-pipeline-expansion/
You might also like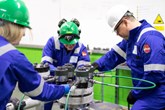 3t EnerMech named regional winner at top engineering awards for the second year in a row.