---
Four young talents from Scotland have graduated with flying colours from the prestigious apprenticeship programme Serimax Evanton.
This programme is led by Serimax, the Vallourec subsidiary specialised in welding. Since 2002, it has put around 100 people through its apprenticeship scheme. Kyle Rose, Jack Beattie, Luke Nicholson and Shaun McKinlay finished their four-year training programme and are now ready to prove their worth in welding, which has been a highly sought-after occupation for centuries since we first started using metals in construction.
Each graduate received training over a four-year course and the apprentices spent the first 18 months training in Serimax's workshops in Scotland and at the Welding Technology Centre in Paris, overseen by knowledgeable advisors. Then for the final two and a half years, were placed into projects in the field to learn practical skills working on real jobs. The school in Evanton, can take on up to 6 apprentices a year and can often have 150 people applying for the vacant positions. The majority of the welding engineers in the technical department from all over have come through this apprentice scheme and the training school has helped Serimax become an employer of choice. It is widely recognised and people know that Serimax offers incredible career opportunities.
Luke Nicholson said: "I am pleased to have finished the programme and to be finally qualified, it's a long process but well worth it and I am proud to say it's recognised by the Scottish Qualifications Authority (SQA)".
Shaun and Jack enjoyed discovering Serimax's two-year old Welding Technology Centre in Roissy near Paris, whereas Kyle was thrilled with the overseas experience he acquired in Norway.
Serimax strive to support employees through many other further education courses and Dave Mackay, Serimax's Regional Vice-President, said: "We're truly committed to good working practices and developing our people, so our apprentice scheme really is important to us. It's a great advantage for our clients – they know when they work with Serimax they will get guaranteed support and service on any type of project. Serimax is dedicated to supporting all employees in their development and encouraging people to learn and improve."
Read the article online at: https://www.worldpipelines.com/business-news/03052018/four-graduates-ready-to-weld-the-future/
You might also like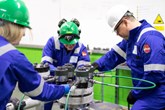 3t EnerMech named regional winner at top engineering awards for the second year in a row.