---
A Line 5 oil spill at Michigan's Straits of Mackinac could deliver a blow of US$6 billion in economic impacts and natural resource damages to Michigan's economy, according to a study commissioned by FLOW, a science, law and policy centre in Traverse City, Michigan.
Conducted by nationally respected ecological economist Robert Richardson of Michigan State University, the study adds up potential costs of a Line 5 spill into the Straits of Mackinac and adjoining waters under a realistic, but not worst-case, scenario.
"This study puts credible numbers behind what common sense tells us, that a Line 5 spill could cause catastrophic economic impacts in addition to environmental destruction. It's another compelling reason for the state to take swift action to shut down Line 5," said Liz Kirkwood, Executive Director of FLOW.
Enbridge Energy owns and operates the twin 65 year old pipelines that span the Straits between Michigan's Upper and Lower Peninsula. Faulty maintenance, unpredictable currents and an early April anchor strike that dented the lines have underscored the risk they pose to the Great Lakes. Enbridge is the same firm responsible for the largest (by surface area affected) and most costly inland oil spill in American history. An Enbridge pipeline ruptured near Marshall, Michigan in July 2010, and according to the company, it released more than 840 000 gallons of oil into the Kalamazoo River system.
The report's estimates are likely conservative. The study does not depict a worst-case spill. It estimates US$697.5 million in natural resource damage costs and restoration and more than US$5.6 billion in total economic impacts, including:
US$4.8 billion in economic impacts to the tourism economy.
US$61 million in economic impacts to commercial fishing.
US$233 million in economic impacts to municipal water systems.
Over US$485 million in economic impacts to coastal property values.
Enbridge has placed additional operating pressure restrictions on the pipelines across the Straits of Mackinac as a precautionary and prudent measure. The company took this step in close consultation with their federal regulator PHMSA, with federal code, and with the State of Michigan.
Enbridge also continues with diver inspections. Plans to reinforce the pipes continue to be developed and will be finalised in close co-ordination with PHMSA and the State of Michigan. The structural integrity of the pipes remains sound and the regular operations of the pipelines continues at the reduced pressure limit.
Enbridge continues to work closely with the State and US Coast Guard as they investigate the incident.
Read the article online at: https://www.worldpipelines.com/business-news/03052018/economic-impacts-reported-of-enbridges-pipeline-oil-spill/
You might also like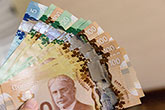 Trans Mountain Corp applies to regulators for tolls on its long-delayed 590 000 bpd pipeline expansion.