---
The Groningen gas field in the Netherlands is one of the world's largest natural gas reserves but the Dutch government will cut production to 12 billion m3/y by 2022, and to zero by 2030. "Our end station is zero," said Prime Minister Mark Rutte, "We choose security first and foremost."
The decision to stop production is due to the creation of small earthquakes in the region that are supposedly caused by huge air pockets left underground when gas is removed from the field. Earlier efforts, including capping extraction, have failed to prevent further earthquakes, hence more drastic action has been called for.
The latest cap on gas output was set at 21.6 billion m3 in 2017, a drastic drop from the peak production of 53.9 billion m3/y in 2013. Now, the Dutch government says it intends to cut production from current levels of 21.6 billion m3/y to 12 billion m3/y as quickly as possible, after the country's northern region was hit by the strongest earthquake in years in January.
Reuters have reported that the government said the exact timing of cuts would depend on how cold winters are, as it published a timeline showing a production cut to around 17.5 billion m3/y for the year beginning October 2019, assuming average temperatures.
Complete closure of the field will be difficult, considering the field supplies gas to millions of homes and businesses in the Netherlands (90% of Dutch homes is supplied by Groningen gas), France, Belgium and Germany. In order to maintain the supply of gas whilst Groningen production is reduced, and then entirely stopped, the Dutch government plans to build a US$615 million nitrogen plant to convert natural high-calorie gas into low-calorie natural gas. The plant is expected to cut demand from Groningen by 7 billion m3/yr and will come online in 2022.
Read the article online at: https://www.worldpipelines.com/business-news/03042018/europes-largest-gas-field-will-stop-production-permanently/
You might also like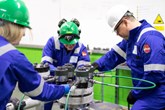 3t EnerMech named regional winner at top engineering awards for the second year in a row.