---
Our Nation's Energy Future ('ONE Future') yesterday announced that Black Bear Transmission LLC, ('Black Bear') has joined the Coalition. Black Bear transports and delivers natural gas from various pipeline receipt points to power generation, industrial and utility customers in the Southeast US; they will report methane intensity within ONE Future's Transmission & Storage sector.
"We're very much looking forward to contributing to the Coalition's efforts of prioritising environmental stewardship in our industry, as well as knowledge sharing with fellow members," said Rene Casadaban, CEO, Black Bear. "Emissions management and operational efficiency is a major focus for us, so we are fully aligned with ONE Future's vision. We are excited to be a part of this industry commitment."
The ONE Future Coalition is a group of more than 50 natural gas companies working together to voluntarily reduce methane emissions across the natural gas value chain to 1% (or less) by 2025 and is comprised of some of the largest natural gas production, gathering and boosting, processing, transmission and storage and distribution companies in the US and represents more than 20% of the US natural gas value chain.
"We're off to a strong start this year, and we welcome Black Bear as our 2nd new member of 2022," said Jim Kibler, Executive Director, ONE Future. "Now more than ever, making the best use of our natural resources in the most efficient, safe and environmentally sound way is so important, and we commend Black Bear for taking this important step."
Through the efforts of coalition members, ONE Future has surpassed its 1% goal in each of the four years that it has reported its methane intensity. The 2021 Methane Intensity Report, released in November 2021, registered an intensity level of 0.424% (vs the 2025 goal of 1.0%), beating its 1% goal by 58%. This means that methane emissions by coalition members across the natural gas value chain consisted of only about one-third of 1% of all natural gas produced and delivered, demonstrating that the natural gas industry can minimise methane emissions and increase production and throughput while supplying much needed energy to the US and around the globe for years to come.
Read the article online at: https://www.worldpipelines.com/business-news/03032022/one-future-welcomes-black-bear-transmission/
You might also like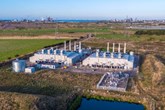 This is the first customer that has been announced for Kellas Midstream's H2NorthEast Teesside hydrogen project.