---
Nigeria's crude oil daily production recorded an upward swing of about 2.09 million bbls in outgone 2018, translating to a 9% increment, compared with the 2017 average daily production of 1.86 million bbls.
Pitched against the low-level daily crude oil production in 2016 and what obtains now, Nigerian National Petroleum Corporation (NNPC) Group Managing Director, Dr. Maikanti Baru, said the nation had maintained a line of consistent year-on-year improvement.
For the crude oil increment and other milestones recorded by NNPC in the outgone 2018, Dr. Baru, who made the submission in a comprehensive end of year message to staff of the corporation, touted the new business models his team has emplaced in the national oil company's old and new business entitles as raison d'être for the giant strides.
A release in Abuja by NNPC Group General Manager, Group Public Affairs Division, Mr. Ndu Ughamadu, said the Nigerian Petroleum Development Company (NPDC), Nigerian Gas Company (NGC), Petroleum Products Marketing Company (PPMC), Duke Oil, NIDAS and Integrated Data Services Limited (IDSL), were among the re-engineered companies listed by the NNPC GMD in his statement.
Ughamadu said Dr. Baru singled out NPDC, the corporation's upstream flagship company, as the major contributor to the industry's success story in 2018, expressing enthusiasm on the 52% daily crude oil production growth by the company vis-à-vis its 2017 performance.
Dr. Baru in the end-of-year statement explained that the average production from NPDC's operated assets alone grew from an average of 108 000 bpd of oil in 2017 to 165 000 bpd in 2018, describing the feat as the strongest production growth within the oil industry in recent times.
The GMD said NPDC's equity production share which stands at 172 000 bpd, representing about 8% of national daily production, was no less impressive, saying the desired results are outcomes of initiatives his Management team emplaced, among which, he noted, are the asset management tea (AMT) structure, strategic financing, units autonomy and security architecture framework.
Of the industry milestones in 2018, Dr. Baru described the 200 000 bpd addition which the Egina Floating Production Storage and Offloading (FPSO) – completed and sailed away to location in August last year – added to nation's daily production, even as he disclosed that the project achieved first oil on 29 December 2018.
In the midstream, the NNPC GMD stated that in 2018, Nigeria achieved an average national daily gas production of 7.90 billion ft3, equating to 3% above the 2017 average daily gas production of 7.67 billion ft3.
He said out of the 7.90 billion ft3 produced in 2018, an average of 3.32 billion ft3/d (42%) was supplied to the export market, 2.5 billion ft3/d (32%) for reinjection/fuel gas, 1.3 billion ft3/d (16%) was supplied to the domestic market and about 783 million ft3/d (10%) was flared.
The GMD stated that out of the 1.3 billion ft3/d supplied to the domestic market, an average of 71 million ft3/d went to the power sector, while 470 million ft3/d was supplied to the industries and the balance of 69 million ft3 delivered to the West African market through the West African Gas Pipeline (WAGP).
Dr. Baru said all existing power plants in the country now had a permanent gas supply pipeline infrastructure, even as he stressed that the corporation would continue to expand and integrate its gas pipeline network system to meet increasing domestic gas demand.
He listed key gas pipeline infrastructure projects on which, he noted, significant progress had been made in their execution to include: Escravos-Lagos Pipeline System (ELPS II), Obiafu/Obrikom-Oben (OB3), Odidi-Warri Expansion Pipeline (OWEP), Trans Nigeria Pipeline Project (TNGP) – Ajaokuta-Kaduan-Kano (AKK) Pipeline, Trans Nigeria Pipeline Project (TNGP) and Nigeria-Morocco Gas Pipeline (NGMP) Project.
In the midstream refinery sub-sector, Dr. Baru regretted that the nation's three refineries had not undergone turn around maintenance (TAM) for an aggregate of 42 years combined. Despite the challenge, he explained that major rehabilitation works were carried out in all the three refineries.
He noted that efforts were afoot to get the original builders of the refineries to carry out TAM on them after securing favourable private funding for the exercise.
"We are currently planning for a better performance and achievement in 2019 especially with the continuous innovations and creativity in the downstream sector and the performance bond signed by all the relevant heads of our operating units. Continuous improvement as one of the principles of world class organisations is going to remain our key word in 2019. 2018 was empirically better than 2017, we believe, plan and strive to achieve a better performance come 2019", Dr. Baru concluded in his end-of-year statement.
Read the article online at: https://www.worldpipelines.com/business-news/03012019/nigeria-records-increase-in-2018-crude-oil-production/
You might also like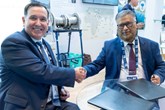 The partnership is to bring critical flange isolation offerings for the Kingdom of Saudi Arabia.