---
T.D. Williamson Chairman Emeritus Richard B. 'Dick' Williamson received the International Pipeline Conference Lifetime Achievement Award on 30 September during the International Pipeline Expo, held virtually from Calgary, Alberta, Canada.
The IPC Lifetime Achievement Award is given to a "person or group that has demonstrated through their work and actions that the safety and economy of pipeline systems has been advanced."
In their announcement, IPC credited Williamson with expanding the international presence of the American Society of Mechanical Engineers (ASME), including co-founding its International Offshore Pipeline Forum (IOPL), helping form and serving as vice president of ASME's International Petroleum Technology Institute and working to develop the first-ever ASME-sponsored India Oil & Gas Pipeline Conference.
Williamson has also been actively involved with the American Petroleum Institute (API), National Association of Corrosion Engineers (NACE), and Gas Appliance Manufacturing Association (GAMA). He helped the American Society of Training and Development (ASTD) frame the core elements of the U.S. in-line inspection (ILI) system, program and training standards. As a board member of the American Gas Foundation (AGF), Williamson worked with industry leaders and state and federal pipeline safety regulators to establish the Distribution Integrity Management Program (DIMP) pipeline standard. In addition, he has supported engineering professional and career development programs throughout his career. IPC added that through Williamson's passion, TDW has become "synonymous with pipelines."
Williamson's deep expertise stems from the fact that he's been with the company nearly his entire life: As the grandson of company founder T.D. Williamson, Sr., Dick Williamson grew up in the industry. He even worked at TDW as a high school student, helping prepare service equipment for the field.
Williamson formally joined with TDW in 1971 as a plastics engineer. As he progressed through a number of career steps, including working as an HT&P technician in 1976, he had the opportunity to supervise people, work directly with customers and feel what he called "the thrill of a job well done"—experiences that helped him become an even better manager and leader.
"It was my days in the ditch, on the pipeline and in the plant that taught me about the heart of the industry we serve," Williamson said. "I worked alongside people who cared for pipelines as their vocation. I was learning the heart of the industry as it is experienced by the people whose days -- and nights -- revolved around assuring that the pipeline operated safely and that its customers were being served."
Williamson was named Executive Vice President and Chief Operations Officer in 1981. He assumed the position of President and Chief Executive Officer in 1992. In 1994, he became Chairman of the board in 1994. He served until 2016 when he became Chairman Emeritus.
In addition to his industry involvement, Williamson plays an active role in community organisations. He is a longtime member of The Salvation Army of Tulsa's Advisory Board and served for 10 years on the Salvation Army's National Advisory Board. In March 2018, he received the Salvation Army William Booth Award, the organization's highest honor. Williamson also served on the boards of the Tulsa Metropolitan Chamber of Commerce and the Oklahoma State Chamber of Commerce. He is founder and current board member of Oklahoma's Innovation to Enterprise (I2E), which facilitates the transition of innovative technologies to commercial applications.
"I can't think of anyone who embodies the spirit of this award like Dick does," said Jeff Wilson, TDW vice president, Eastern Hemisphere. "Dick Williamson is an integral part of the oil and gas industry. He knows this business inside and out. He knows the challenges our customers face, and he also has a deep understanding of what it's like for TDW technicians and engineers in the field. TDW wouldn't be the same without him."
IPC is an internationally renowned conference held every second year in Calgary. It was founded in 1996 by a group of pipeline engineers and managers to promote sharing and technical knowledge transfer within the energy pipeline industry. The conference generally attracts more than 1,300 participants from 44 countries.
Read the article online at: https://www.worldpipelines.com/business-news/02102020/dick-williamson-wins-energy-industry-lifetime-achievement-award/
You might also like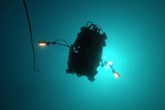 Voyis and Deep Trekker, have joined forces to achieve the successful fusion of Voyis' Discovery Camera with Deep Trekker's REVOLUTION ROV.