---
Continued success in international markets has increased global revenues by nearly £100 million for integrated mechanical and electrical services specialist EnerMech.
The Aberdeen-headquartered firm has posted 2017 group turnover of £361.4 million, up from £263.9 million the previous year, while profits (EBITDA) increased by £19.3 million to £43.6 million.
EnerMech employs 3500 staff across 40 locations in the UK, Norway, the Middle East, Caspian, Asia, Africa, Australia and Americas, and has evolved in to one of the world's leading integrated mechanical and electrical contractors serving the oil and gas, LNG, renewables, defence, power, infrastructure and petrochemicals sectors. The company stated that around £45 million of its revenue growth had come from the acquisition of electrical & instrumentation (E&I) specialist EPS Group Australia in early 2017.
Annual accounts lodged this week at Companies House for the year to December 2017 show EnerMech's UK business continued to weather the oil and gas downturn, despite a drop in turnover to £116 million from £128 million in 2016. In the UK, where the company employs 1000 staff, EnerMech posted EBITDA of £9.9 million compared to £15 million the previous year.
EnerMech Chief Executive Officer, Doug Duguid, forecast that global revenues in 2018 would increase to £430 million with EBITDA in the region of £59 million, and said the UK business would also experience growth on the back of increased investment in the region.
Mr Duguid said: "Our global strategy of diversification, both in terms of the services we provide and the markets we are competing in, is proving successful and this is strongly demonstrated by our financial results, however we are also starting to see a return to growth in our traditional oil and gas market.
"In five of our seven operating regions, we experienced significant growth, particularly in Australia where revenue almost doubled, and in the US where growth of our industrial services and E&I offerings plus exposure to large LNG projects more than doubled turnover. In Africa too, strategic contract wins in Angola, Nigeria and Ghana saw activity levels increase by 50% in 2017, while in Asia we improved on our 2016 performance by securing important contracts in Korea and Malaysia.
"The Middle East and Caspian region remained steady in 2017, while Europe was the only region in which revenues declined, due to the well-documented drop off in new oil and gas projects and the deferral of non-essential maintenance activities.
Mr Duguid was upbeat on 2018 prospects, pointing to EnerMech's ability to deliver integrated services which clients are increasingly demanding and the company's focus on greater collaboration with customers.
He said: "The prospects for our 2018 financial results are very positive and we expect further growth in the Americas and Australia in particular. Our commitment to developing innovative operational and commercial ways of working is gaining traction and is particularly relevant to mature oil and gas markets, where extending field life is a key customer objective.
"Over the last 10 years we have built a robust business which operates across diverse international markets and this has allowed us to grow, despite the numerous challenges we faced in the oil and gas downturn. We are in a strong position to achieve our long-term objective of becoming the global contractor of choice for pre-commissioning, commissioning, operations and maintenance, and late-life services across a wide range of sectors."
Read the article online at: https://www.worldpipelines.com/business-news/02102018/enermech-announces-global-revenue-increases/
You might also like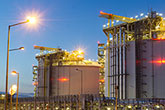 Prices pick up slightly but continue to remain deflated worldwide; prices did not respond as they did in 2022 despite disruption of gas pipeline supplies in Europe by multiple maintenance works.