Sapphire Technologies named finalist in 2021 Cleantech.org GS Beyond Energy Innovation Challenge
Published by Elizabeth Corner, Senior Editor
World Pipelines,
---
Sapphire Technologies has been named a finalist in Cleantech.org's inaugural GS Beyond Energy Innovation Challenge. The California-based startup was recognised for its pioneering work in developing and deploying high-speed magnetic turboexpander technology for energy recovery in hydrogen and natural gas industrial applications.
Sapphire was down-selected as one of six finalists from a field of over 100 applicants in a highly competitive multi-stage process. The finalists will present their solutions to a panel of five judges on 21 July. The winner will be awarded US$100 000 and possibly a pilot project with South Korea's GS Group.
The challenge's program sponsor, Cleantech.org, is a portal for energy and environmental technology commercialisation. The Innovation Challenge is hosted and funded by GS Beyond and GS Futures, the Silicon Valley-based innovation and investment arm of the GS Group, a South Korean global energy, power, construction and retail conglomerate.
"We are very honoured to be selected as a finalist in this Innovation Challenge, which has given us the opportunity to showcase our energy recovery systems," said Freddie Sarhan, CEO of Sapphire Technologies. "Our mission of reducing the global carbon footprint by capturing wasted pressure energy also enables substantial financial returns for our customers."
Sapphire Technologies' turboexpander-generator systems are being deployed to recover waste energy at pressure letdown stations in natural gas pipelines. The captured energy is converted into usable electricity with zero fuel consumption and zero emissions.
The Sapphire Technologies system uses non-contact active magnetic bearings to ensure contactless operation, eliminating expensive and high-maintenance lubrication systems.
"Each of these finalists brings a different approach and technology to solving big energy and climate-related challenges," said Neal Dikeman, Chairman of Cleantech.org and a partner at one of the prize sponsors Energy Transition Ventures. "They each have seen prior success, but only one of them is going to win the US$100 000 cash prize. It will be exciting to see where the judges land."
The judges for the competition are five highly experienced venture investors and executives from Chevron, Amazon, GS Group, Energy Transition Ventures and EDF. Visitors can register to watch the finalist pitches and judging on July 21 here.
Image: Sapphire Technologies Turboexpander-Generator System.
Read the article online at: https://www.worldpipelines.com/business-news/02072021/sapphire-technologies-named-finalist-in-2021-cleantechorg-gs-beyond-energy-innovation-challenge/
You might also like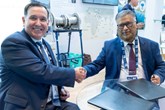 The partnership is to bring critical flange isolation offerings for the Kingdom of Saudi Arabia.